Table routers for professional woodworking – Mobile industrial table routers from RUWI
"The efficiency machine among the table milling machines".
The solution for wood professionals: mobile routers from RUWI
Versatile, flexible, safe: The RUWI bench milling machine is a real all-rounder with special capabilities and numerous configuration options.
Chamfering, grooving, rounding, sanding, deburring, flush milling – with the mobile table milling machine RUWI offers a semi-stationary system in the field of woodworking machines, which enables precise milling work on a stable work table and highest flexibility in equal measure. The processing of a wide variety of materials exactly where it suits you best is thus achieved in no time at all. In addition, we offer a wide range of accessories for the RUWI bench cutter for all conceivable applications. The mobile milling table adapts to any challenge.
The table milling machine provides tools such as lamello cutters, chamfer cutters or rounding cutters on demand for reworking or for machining small and large batch sizes. It is the ideal complement to the existing table and CNC milling machine.
RUWI bench milling machines: 3 versions, highest efficiency
The optimum design for every requirement: At RUWI you will find the mobile plastic and wood table milling machines in three sizes and in different equipment with consistently high quality. Choose the variant that best suits your requirements:
RUWI spindle moulder Basic
Professional router
Router table
Milling table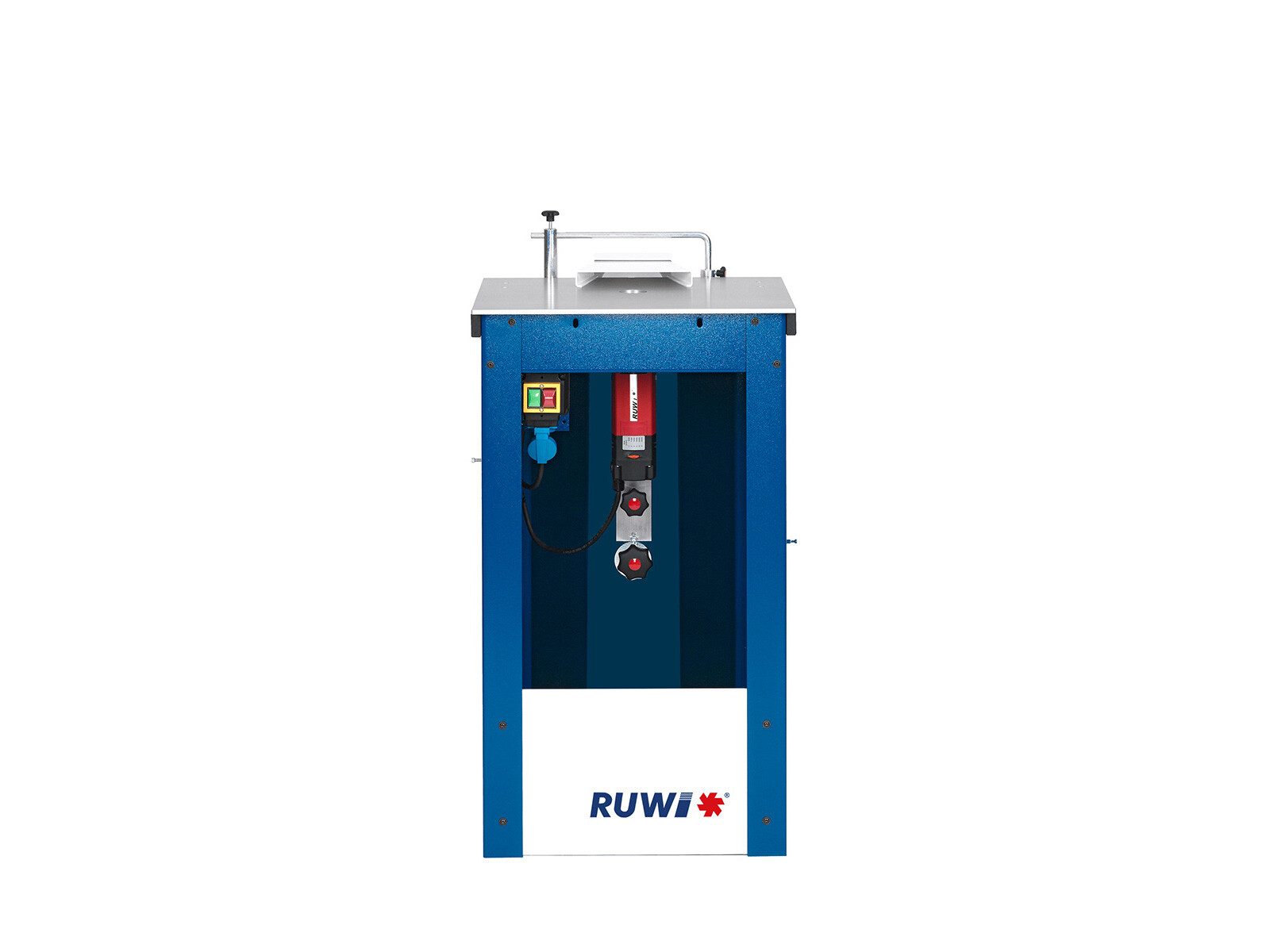 RUWI spindle moulder classic
Mobile undercutter
Multi-spindle milling table
Multispindle router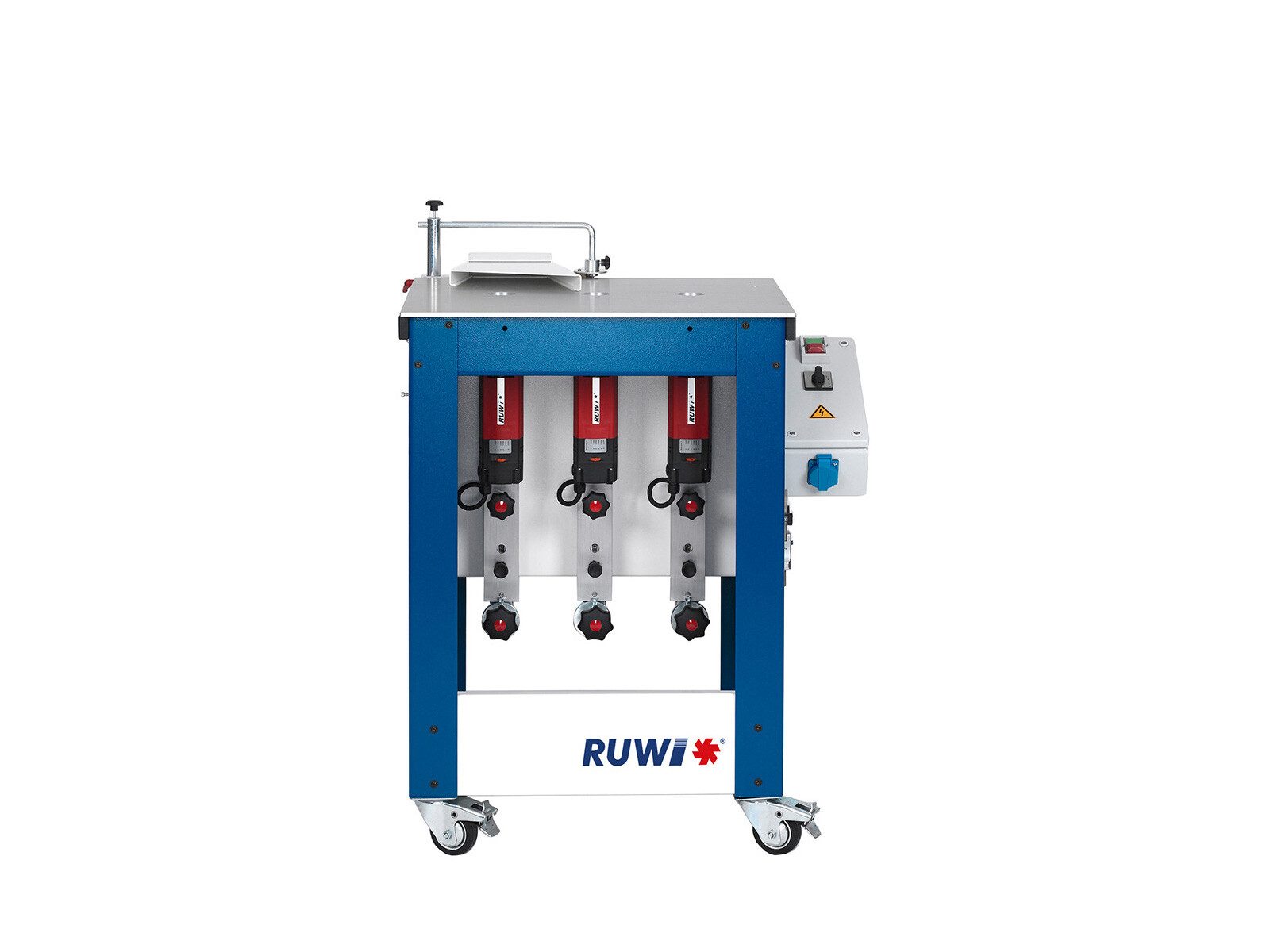 RUWI router table Premium
Mobile premium undercutter
Multi-spindle milling table
Multispindle router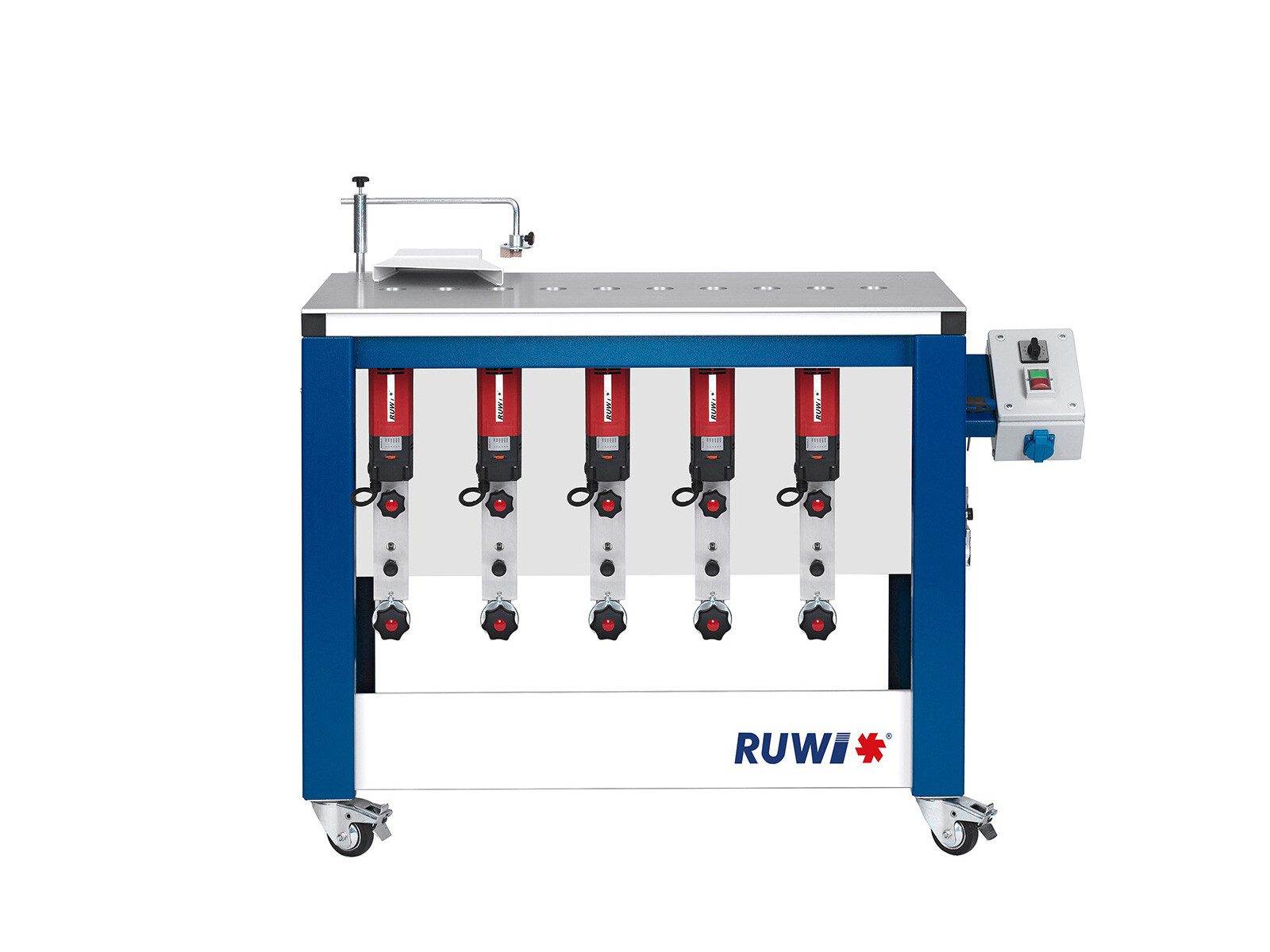 Equipment and technical data
From the space-saving mini table milling machine to the large performance miracle, where you can retrofit up to five drive units, RUWI offers an excellent selection of mobile milling tables. All three variants guarantee a secure stand and can still be used as mobile units thanks to the load-bearing castors.
The features of the individual milling machines at a glance:
| Technical data | RUWI spindle moulder Basic | RUWI spindle moulder classic | RUWI router table Premium |
| --- | --- | --- | --- |
| Table size | 520 x 430 mm | 640 x 500 mm | 1070 x 500 mm |
| Mobility | 2 transport rollers | 4 swivel castors | 4 swivel castors |
| Savings potential for set-up times | Medium | High | Very High |
| Tools on demand | 1 | 3 | 5 to 10 |
| Tool height repeatable | | ✔ | ✔ |
| Retrofittable drive units | | | Up to 5 pieces |
| Engine power | 1050 Watt | 1050 Watt | 1050 Watt |
| Motor speed | 8000 to 25000 rpm | 8000 to 25000 rpm | 8000 to 25000 rpm |
| Collet size | 6, 6.35, 8, 10 mm | 6, 6.35, 8, 10 mm | 6, 6.35, 8, 10 mm |
---
Engine power
The drive units for RUWI table milling machines have a robust and heavy-duty 1050 Watt / 220V motor and are therefore also fit for continuous industrial use. The milling machines can be connected to a standard household socket without any problems.
The speed of the drives is infinitely variable from 8000 to 25000 rpm. Sophisticated control electronics prevent speed fluctuations under load. It enables a particularly smooth start-up by means of a start-up current limitation.
The RUWI drive unit has a 22 mm diameter milling spindle and a counter-rotating reclaim thread to keep out dirt. A precise double bearing ensures highly accurate milling patterns.
The clamping fixture is made of robust steel. RUWI drive units are available as standard with 8 mm collets, but optionally also in 6, 6.35 or 10 mm versions.
Upgrades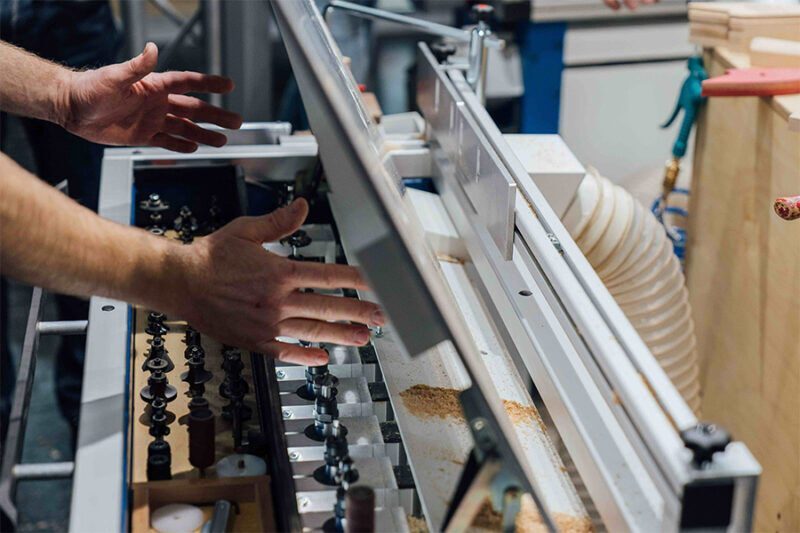 The RUWI table milling machines grow smoothly and continuously with the requirements in your company. We at RUWI have ensured this with a modular design of the machines and a comprehensive range of supplements and accessories. If your RUWI is reaching its limits because of new tasks, then simply upgrade – make an upgrade.
With the exception of the fine adjustment option on the milling unit, everything can be retrofitted.
We therefore recommend the woodworker to equip at least one unit with fine adjustment right from the start. Customers from the plastics sector usually choose the additional fine adjustment for all milling units.
RUWI table milling machines are available in the versions S with one drive unit, M with three units and L with 5 (standard) to 10 motors. Within the framework of these specifications, the respective versions can be expanded at any time and with great ease.
The new units are simply fixed with two screws and connected to the power supply with the existing plug – ready!
Wide range of table milling accessories
RUWI bench milling machines convince by their high flexibility in daily use. However, they are not only flexible in terms of mobility, but also due to their modular design, which allows easy replacement of worn parts and individual upgrading.
The RUWI table milling accessories have been further developed over many years and adapted to the needs of the market. A wide range of accessories makes the small underfloor tiller suitable for almost all applications and retrofits to meet specific requirements. Thus, it can cope with almost all conventional tasks in the plastics and wood processing industry.
All accessories (except the fine adjustment) can be reordered individually.
RUWI accessories for bench milling machines in detail
The system accessory for the RUWI wood router:
Accessories
Stop ruler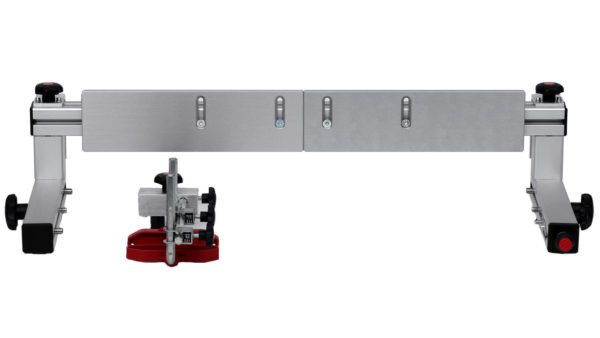 Das Anschlaglineal für die RUWI Tischfräse in den Modellvarianten Anschlaglineal Tischfräse Basic, Anschlaglineal Tischfräse Classic oder Anschlaglineal Tischfräse Premium mit der Andruckvorrichtung und den flexibel positionierbaren Anschlagbacken ermöglicht ein einfaches und sicheres Bearbeiten von Werkstücken und wird bei geradlinigen Arbeitsgängen wie Fasen, Nuten oder Runden verwendet. Die Ausführungen für die Tischfräsen Classic und Premium haben zudem eine Tiefen-Feineinstellung für eine besonders präzise Justierung. Auch Einsatzfräsen ist dank verstellbarer Endanschläge problemlos möglich.
---
Drive units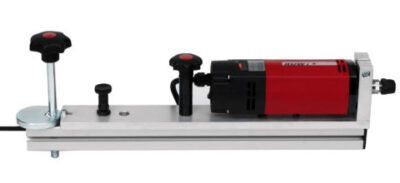 The RUWI table router Premium can be retrofitted with up to 5 additional drive units . The Premium table milling machine can be equipped with up to 10 motors to further accelerate the workflow while minimizing set-up times. The installation of new drive units is quick and easy via the Schuko sockets already pre-mounted on the table milling machine.
---
Drive units with fine adjustment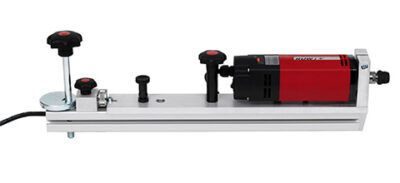 The extended Drive unit retrofit kit with integrated fine adjustment enables fine adjustment of the cutter height to a tenth of a millimetre.
---
Table extension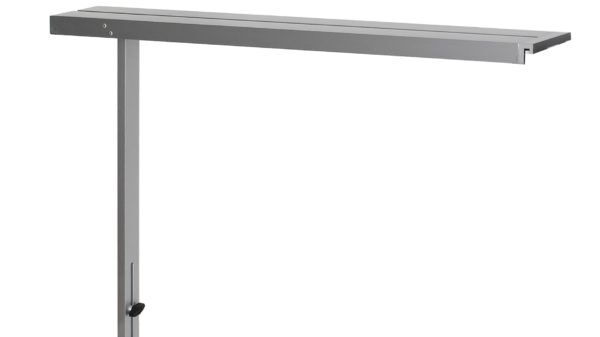 The Table extension can be attached to the side or front of the milling machine without tools if required. It not only enlarges the work surface for larger workpieces, but can also be used as an additional storage surface. (A mounting set for the table extension is required here).
---
Mounting kit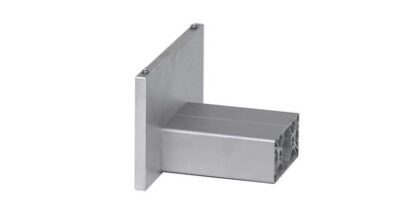 The mounting set allows the table extension to be quickly attached to the left, right and front of the RUWI table milling machine. You will find the suitable models in the shop under Table milling accessories .
---
Curved ruler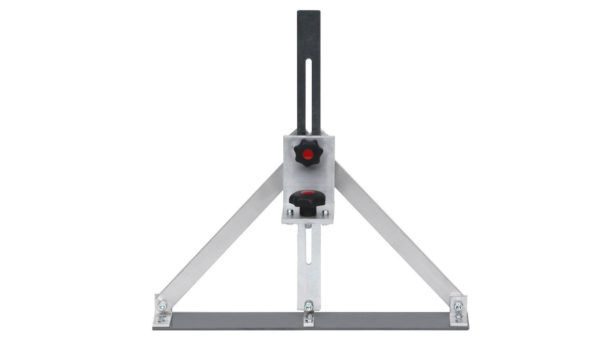 With the freely adjustable Curved ruler outer and inner radii can be traced steplessly. It can be used on any drive spindle by moving it sideways. The accessory is hooked onto the stop ruler and can therefore only be used in combination with the stop ruler. After use, it can be hung on the side of the machine frame. Grooves, profiles or notches can be milled parallel to the workpiece contour.
---
3D unit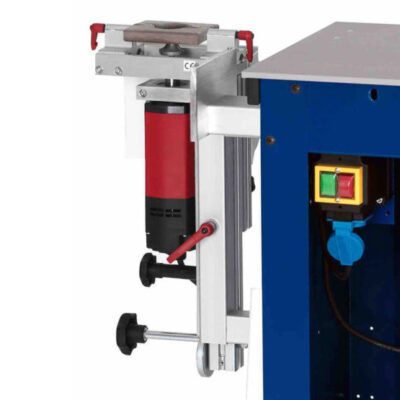 With the 3D unit for RUWI table milling machines multiple deformed and curved parts can be machined without any problems. Concave and convex workpieces can be machined via two movable workpiece supports. The adjustable tool cover and the suction nozzle with a diameter of 120 mm ensure safety and clean work. The subsequent attachment of the 3D unit is also possible quickly and easily using the Schuko sockets that are already pre-installed on the table router.
---
Union nut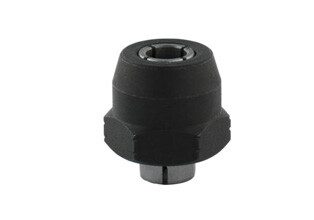 The union nut made of hardened tool steel and spanner size 22 is suitable for the collets of the RUWI table milling machine. However, it is recommended to use a separate union nut for each collet for easier handling.
Tools
The Rounding cutter has a replaceable thrust ball bearing and two cutting edges tipped with carbide. This ensures clean and precise rounding of straight or curved edges.
---
45° Chamfering cutter with thrust bearing is used for deburring and chamfering solid wood, coated boards and wood-based materials.
---
The Flush milling cutter has two carbide inserts that are precisely matched to the diameter of the thrust ball bearing. This enables exact flush milling of edges and is also suitable for working with the template. For coated boards, solid wood and derived timber products.
---
The double-edged Disc grooving cutter with carbide-tipped straight cutting edges is suitable for grooving and slotting softwood, hardwood and coated boards. The shaft can be equipped with the different sized thrust ball bearings and is thus also perfectly suitable for flat dowels of the sizes 0, 10 and 22.
---
At Grinding tool the abrasive belt is placed on the abrasive belt carrier and enables grinding of small inner radii and bores.
The abrasive belt carrier is used to hold the abrasive belts. A collet chuck of 6 mm is required.
---
Spare parts
For the reception of the shank tools a suitable Collet chuck required. The RUWI bench cutter can be equipped with collets for tools with shank diameters of 3.175mm / 6mm / 6.35mm / 8mm / 9.5 / 10mm. In these multi-slotted precision collets, the tools are fixed quickly and with high concentricity. An 8mm collet is installed as standard.
---
The Plastic insert ring is pressed into the opening on the cover of the RUWI routers. When the corresponding milling tool is started up for the first time, the material is cut to the size of the outer diameter. This means that the free space from the lid opening to the cutter is reduced to zero. This increases safety when milling even the smallest parts.
For whom are our mobile table milling machines suitable?
Many orders in the field of plastics or wood processing require innovative solutions that cannot be adequately served by existing offerings, especially when it comes to the topic of mobility.
We have responded to this need by combining profound know-how and decades of experience with passionate courage for new ideas. The result is a mobile milling table which, thanks to its powerful and robust components, can cope with continuous industrial use as well as being the ideal companion for professional do-it-yourselfers.
Easy transport, short set-up times, safe working: You can implement your desired milling program anywhere, and thus benefit from an optimized workflow, whether in the workshop, in the industrial plant or directly on site, where the machined workpiece is used.
The different versions of the modular bottom or top routers are suitable for a wide range of applications:
Occupation & Hobby: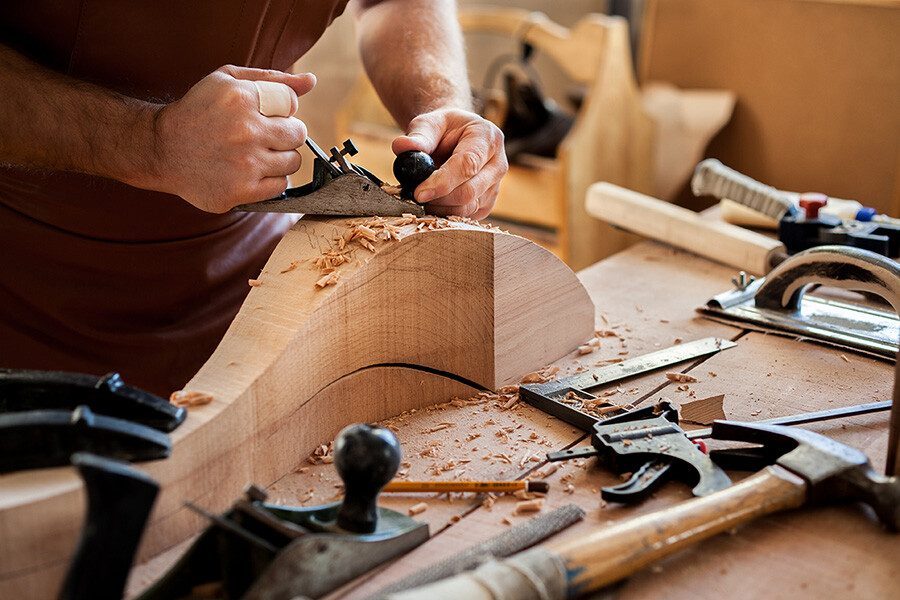 Carpenter
Joiner
Carpenter
Turner
Furniture restorer
Model builder
Professional do-it-yourselfer
and much more.
Deployment Locations: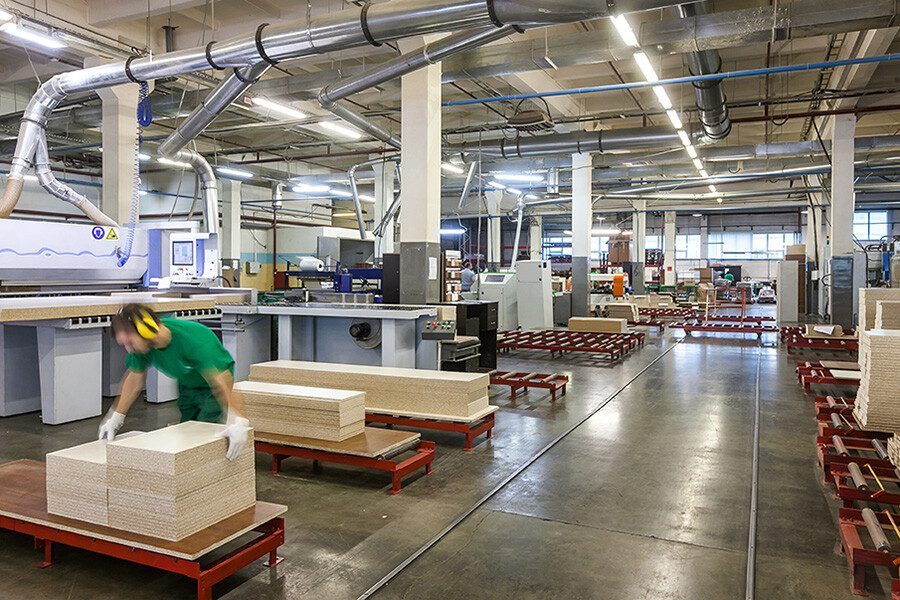 in industrial use
in the carpentry shop
Workshops for people with disabilities
in the home workshop
on assembly
and much more.
Deployment Locations: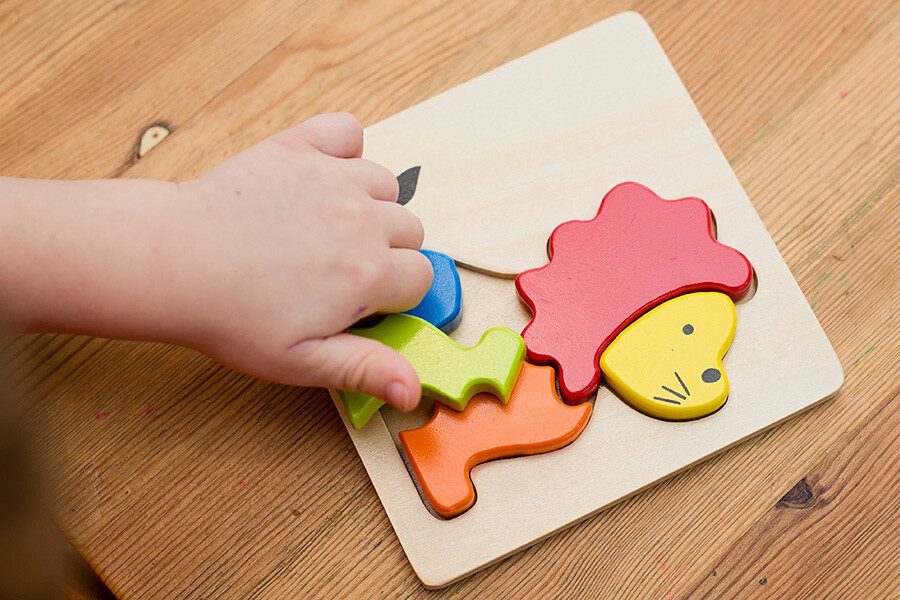 Interior
Furniture construction
Kitchen manufacturer
Wooden toy manufacturer
Motorhome and caravan manufacturer
and much more.
Possible applications: Bench milling machines in use
RUWI bench routers are part of the basic equipment in the workshops of woodworking companies. It is available in three versions: as a single-spindle, three-spindle and five-spindle table milling machine. Their flexibility and effectiveness in daily use make them all-rounders in trade and industry. RUWI table milling machines are fit for single parts, small series but also for industrial continuous operation: Low space requirements and mobility predestine the roller table milling machines for use in production, in the bench room or as an ideal supplement for reworking on the CNC machine during machine running times.
First-class results when machining wood or plastic
Wood industry
Fast and precise: A RUWI universal milling machine enables professional work with maximum flexibility:
in combination with CNC or table milling machine: reworking, further processing, deburring, separating by nesting
small parts milling, chamfering, grooving, rounding, grinding, flush milling and copy milling
Single part production including all intermediate steps
Working materials in wood processing:
Wood
Solid wood
Multiplex
MDF
and much more.
Plastics industry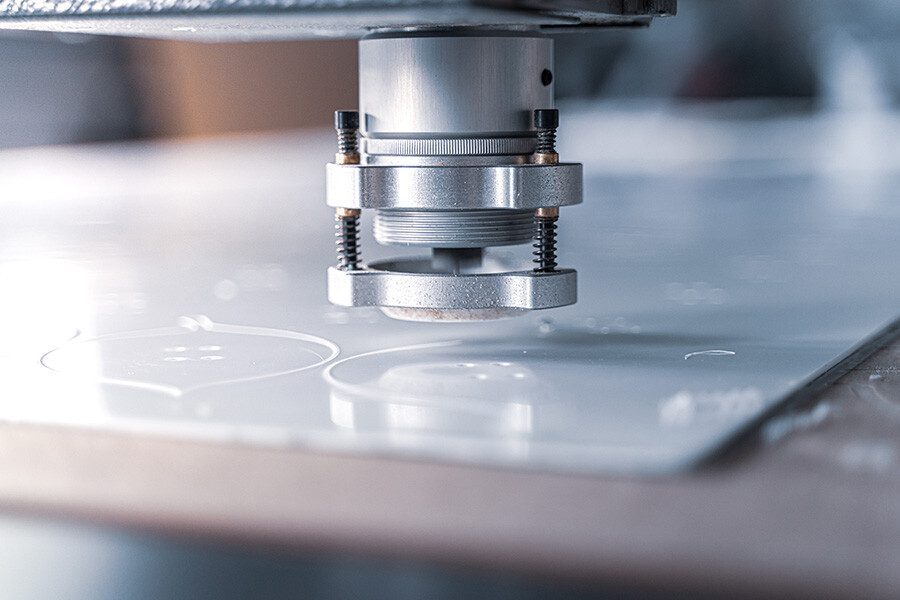 Working on a mobile workbench from RUWI opens up a wide range of possibilities to meet the highest demands:
milling
edit
bevel
round
deburring
Mill deep-drawing parts
Working materials in plastics processing:
Acrylic
Plexiglas®
Makrolon® polycarbonate
POM
Thermosets
Thermoplastics
Polyamide
PETT
PEKK
PPSU
and much more.
Professional Home Works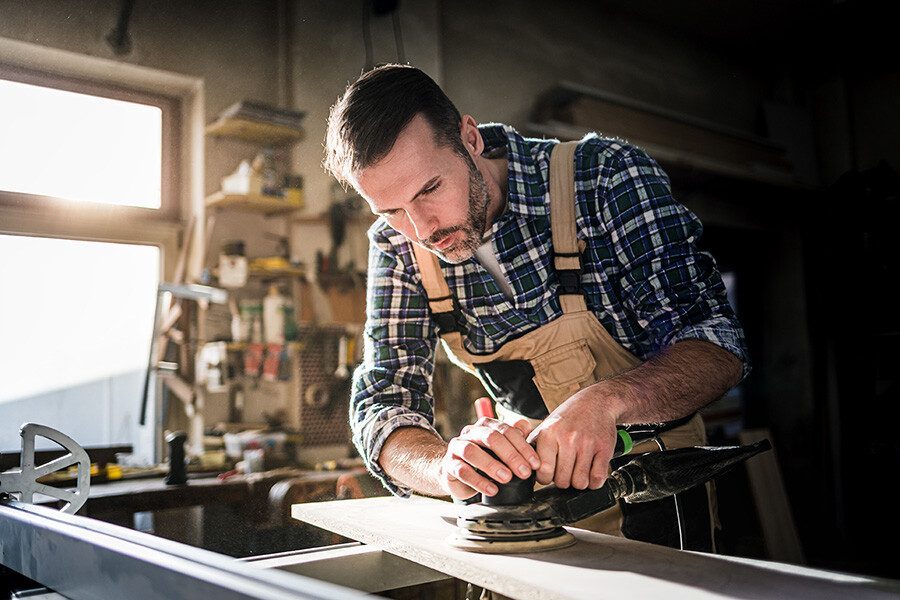 Even professional do-it-yourselfers need reliable tools and a wide variety of router heads on call to efficiently implement individual woodworking projects.

Just as in the wood industry, RUWI also offers professional home craftsmen a compact, mobile milling table on which profiles and much more can be produced effortlessly.
Motorhome / Caravan Manufacturer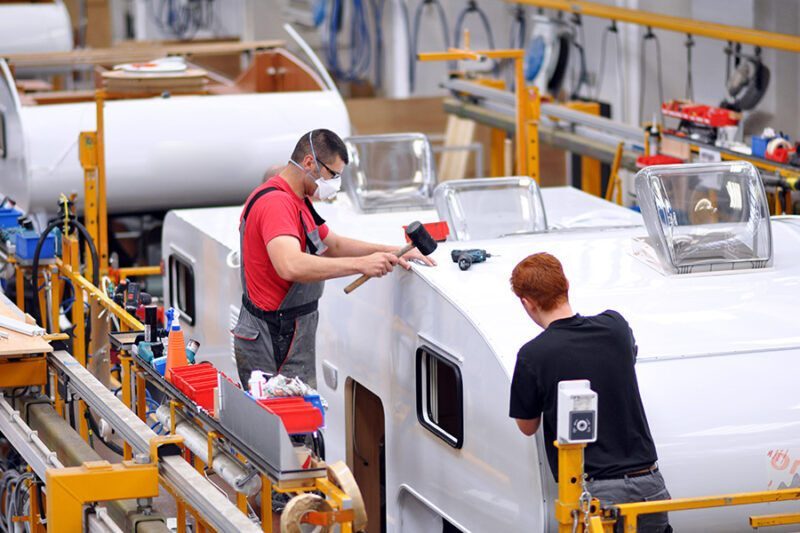 A wide variety of materials are used in the manufacture of caravans. On the mobile milling table, the various work steps can be carried out carefully and in a time-saving manner, such as:
milling
bevel
deburring
grind
Working materials in mobile home manufacturing:
Aluminium
Wood
Plastics
GRP
Composites
and much more.
Model making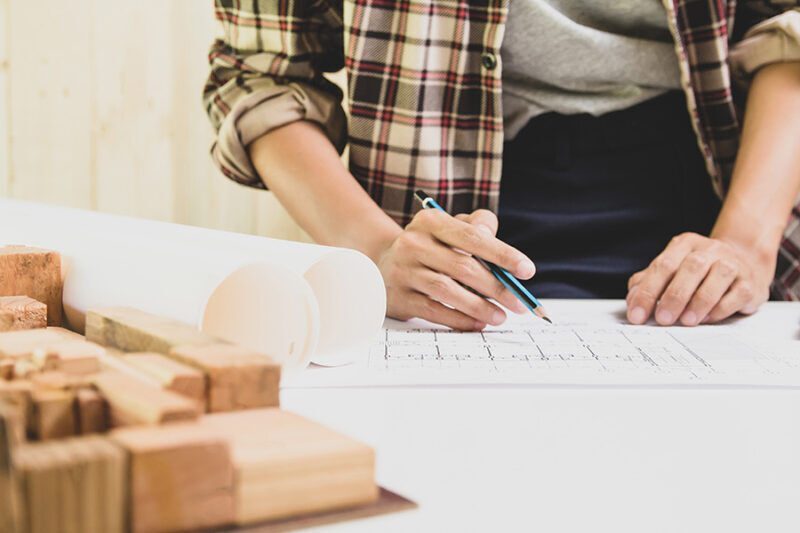 In the field of model making, too, it is necessary to respond to a wide variety of requirements. The material can be easily processed and finished on the RUWI table milling machine:
milling
bevel
deburring
grind
Working materials in model making:
Aluminium
Wood
Plastics
GRP
Composites
and much more.
Advantages of the mobile bench milling machine from RUWI
Not only in terms of individual parts, material used or careful workmanship – even at the design stage of our machines, quality is the most important parameter that all our products meet.
High-end elements combined with flexible modules and a wide range of milling table accessories make our products real all-rounders with a wide range of applications.
Tool change in seconds with pre-equipped tools enables operations to be changed in the blink of an eye. Time-consuming trial milling is no longer necessary. You only have to adjust the cutter height once. Waiting time at the CNC is eliminated. All this not only saves time, but also costs.
Mechanics that have proven themselves over decades, robust construction, uncomplicated technology, high-torque electric motors and genuine endurance runners guarantee a long life even in demanding industrial shift operations.
As the only supplier of a mobile, multi-spindle table milling machine in Germany, we offer proven technology "Made in Germany". The RUWI milling machine has become a reliable and indispensable partner in many woodworking craft and industrial companies.
---
Why you should choose a router from Ruwi
RUWI is a family business with a long tradition, dedicated to the craft of carpentry.
Our core values? Innovation, excellence, simplicity, appreciation, integrity and passion!
As an established family business with a love for the carpentry trade
The demands and needs of our customers are our motivation to think ahead in order to be able to offer the plastics and wood industry compact multi-talents that enable excellent processing of wood and plastics. If you want a cleanly finished workpiece, you need precise tools and a reliable workstation. In the development of our products, the use of high-quality materials and a sophisticated concept form the basis of our work. But we would like to achieve even more with our work machines:
The mobile underfloor milling machines from RUWI enable you to optimise and freely design your workplace thanks to the multifunctional elements and the easy transport and assembly. In this way, you can perfect work processes, save working time and thus enormously improve your working conditions or those of your team as a whole.
A safe investment with no risk when purchasing: When you buy a table router from RUWI, you expect the highest safety standards and professional service.
RUWI table milling machines…
are BG wood dust tested
are DGUV tested
are GS certified
and have the CE marking.
Service / Warranty
We at RUWI give our products a particularly long life expectancy, always use the best materials and take responsibility for what we do.
Customer satisfaction
An honest and cooperative partnership with our customers as well as with partners and dealers is our focus. Every new challenge creates incentives for innovative ideas, so that we can always offer you a product portfolio that guarantees the highest level of satisfaction.
Further RUWI products in the field of plastics and wood processing
---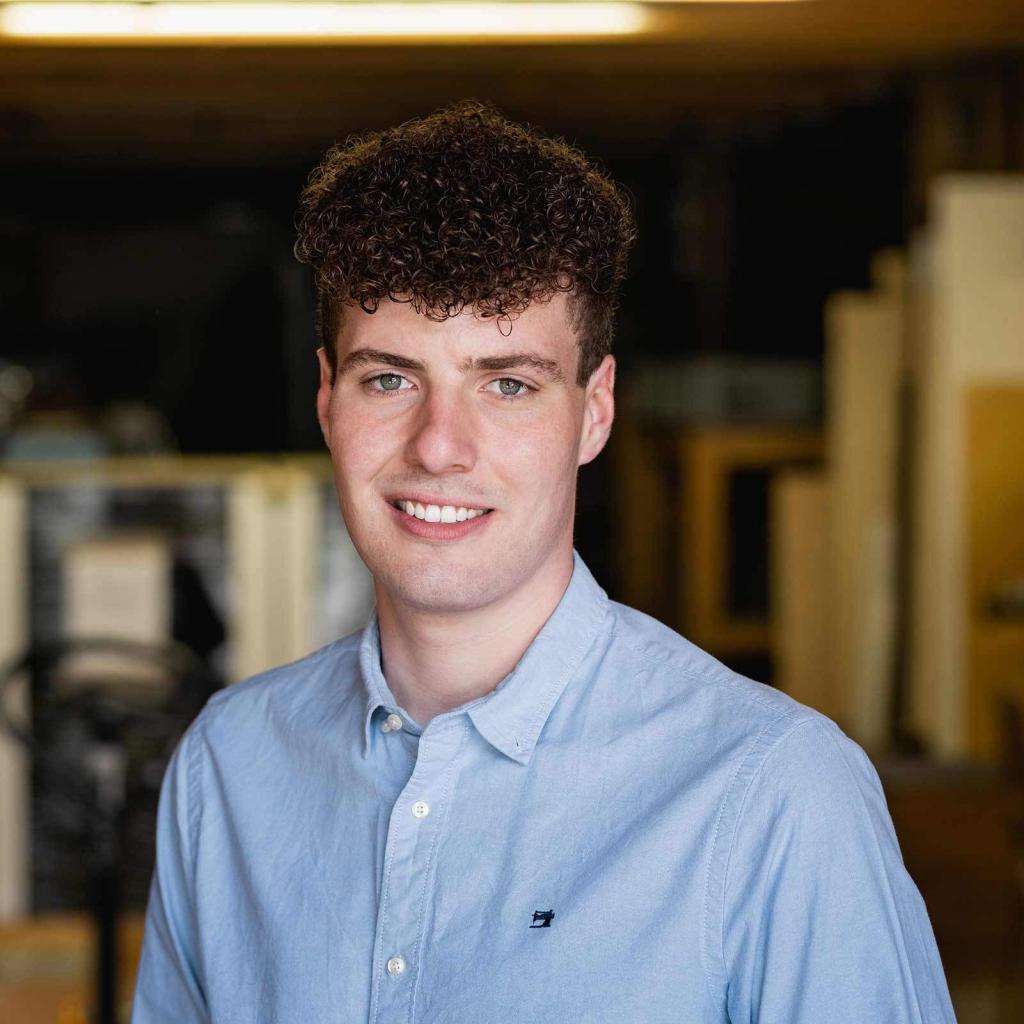 Florian Ruggaber
Any questions? Call us or write us a message!
You can reach us on +49 07402 8414 or by e-mail info@RUWI.de. On our contact page you will find other ways to send us a message.