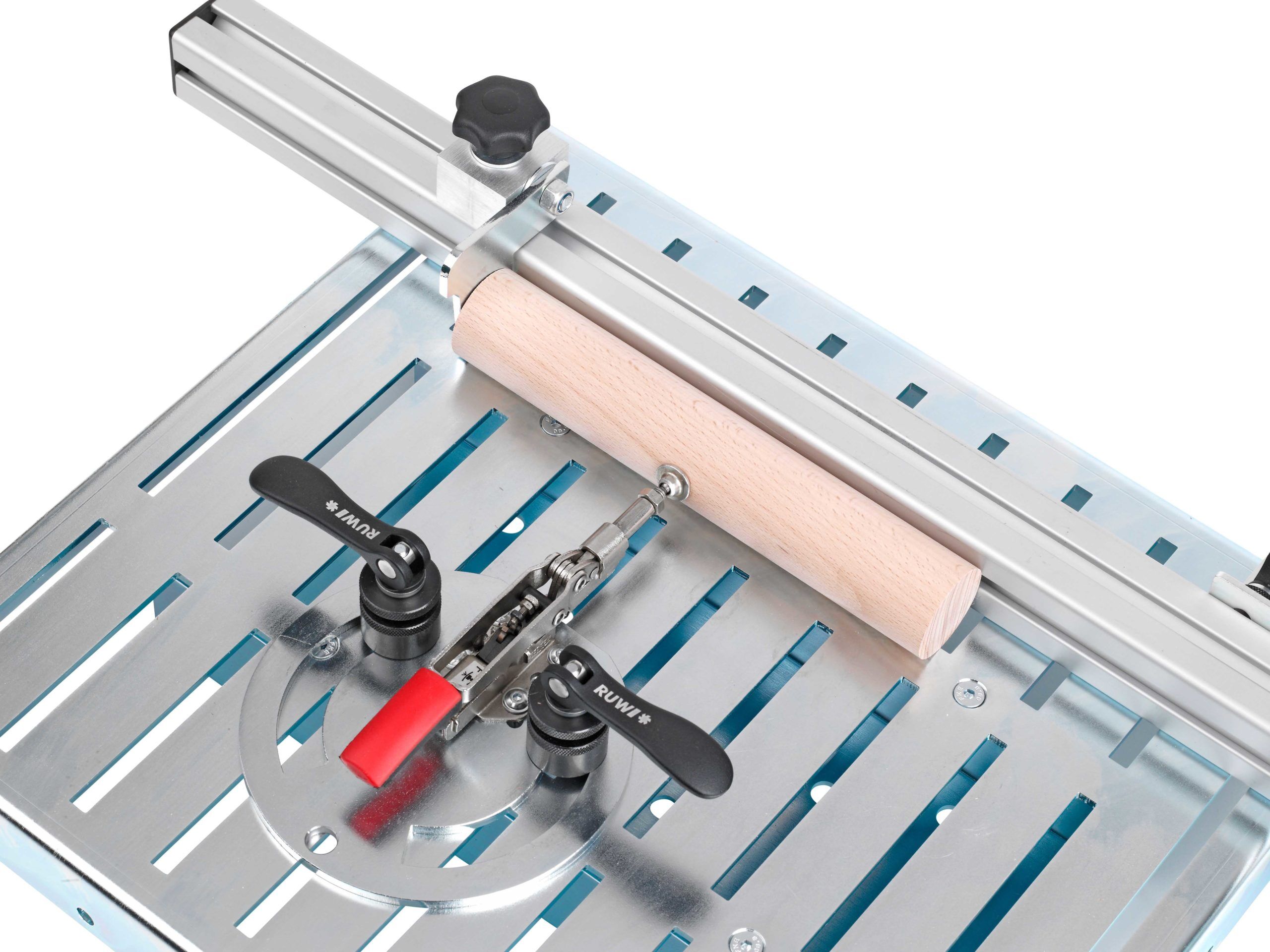 Clamping plates made of sheet steel for drilling and milling machines
Fixed: Workpieces on the pillar drill
The RUWI clamping plate with grooves for fixing workpieces on machine tables accelerates work processes on pillar drilling machines and provides more security. Clamping elements and stop modules, stop elements and stop rails are freely positioned and fixed without tools. With the RUWI clamping plate made of 4mm galvanized sheet steel, stop elements can be folded upwards. Everything succeeds here in the blink of an eye. Vertical clamps, vice and table extension are further accessories. With them, the clamping plate can meet almost all requirements.
The simplest, tool-free operation as well as the operational readiness of the clamping plate, clamps and stops in seconds provide security in handling.
Infinitely adjustable and finely adjustable stops can be positioned very precisely, and can also be used in series production.
All accessories can be freely positioned in the grooves of the clamping plate. With the table extension, the use of large workpieces is also extremely easy.
RUWI clamping plates: diverse application possibilities
The RUWI clamping plate can be installed quickly and easily on existing machine tables. For example, pillar drilling machines, as can be found in every company, can be upgraded with a manageable investment. Such machine tables then offer the user real added value and a clear plus in security and flexibility.
| Technical data | Clamping plate set 1 | Clamping plate set 2 |
| --- | --- | --- |
| | | |
| Table size | 450 mm x 400 mm | 450 mm x 400 mm |
| Stop ruler | 720 mm | 720 mm |
| Foldable and sliding stops | 2 | 2 |
| Fixing rails for table extension | – | 3 |
| Table extension | – | 1 |
| Net price | € 442.04 | € 637.36 |
Clamping plate accessories
Push – turn – fix, it couldn't be easier or faster. With the comprehensive range of accessories for the RUWI clamping plate, you gain valuable time and more security in no time at all. Clamping and stop elements are fixed without tools using the quick-release clamps included in the scope of delivery.
---
The vertical clamp set contains an adapter plate, two quick releases and one vertical clamp. The clamps increase safety and increase efficiency in drilling operations. Comfort plus: The automatic height compensation handles material thicknesses from 0 – 40mm completely by itself. This means that the vertical clamp can be securely positioned and fixed on the clamping plate in no time without tools. The circular adapter plate belonging to the set ensures precision and flexibility when positioning the pressure spindle.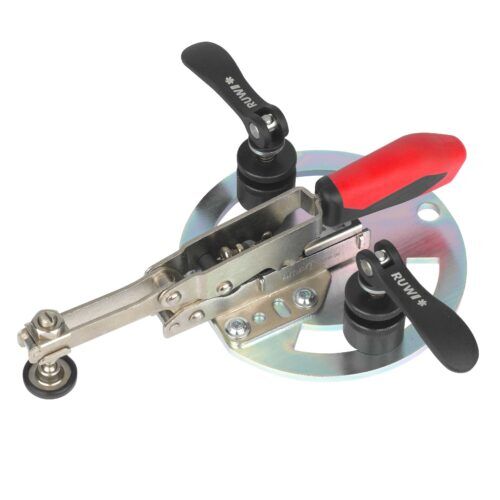 Additional support surfaces are provided by table extensions that are hung and clamped onto the mounting rails on the side of the clamping plate.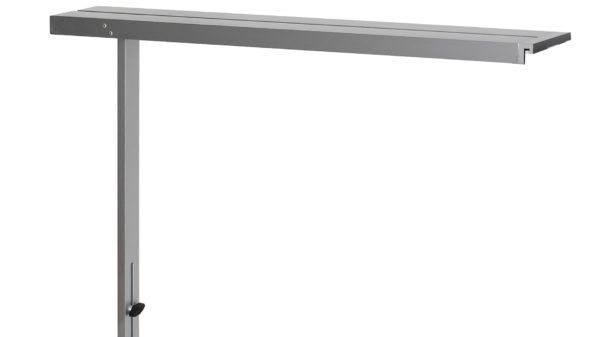 The position bracket set contains a position bracket and a quick release. The quick release fixes the position angle precisely at any point in the clamping plate, on the stop ruler or on the table extension. The stop height and depth can be finely adjusted with the stop screw. With this pre-setting, workpieces can also be machined in series with the greatest possible precision.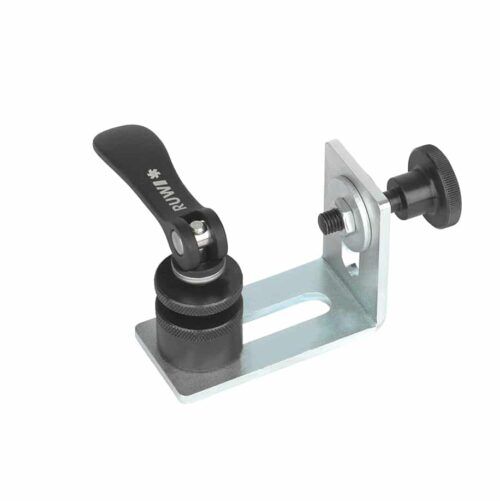 The machine vise set consists of two quick-release clamps and a machine vise. The vice is positioned and fixed on the clamping plate in no time using the two quick-release clamps. This set increases the efficiency and safety when working on pillar drilling machines.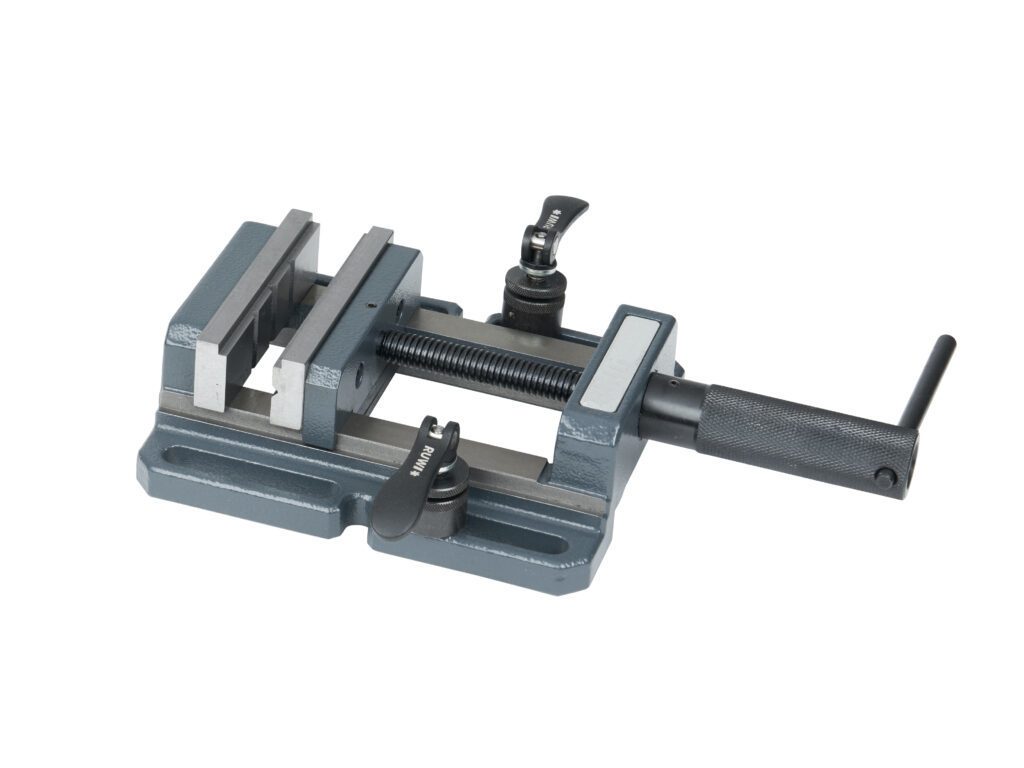 ---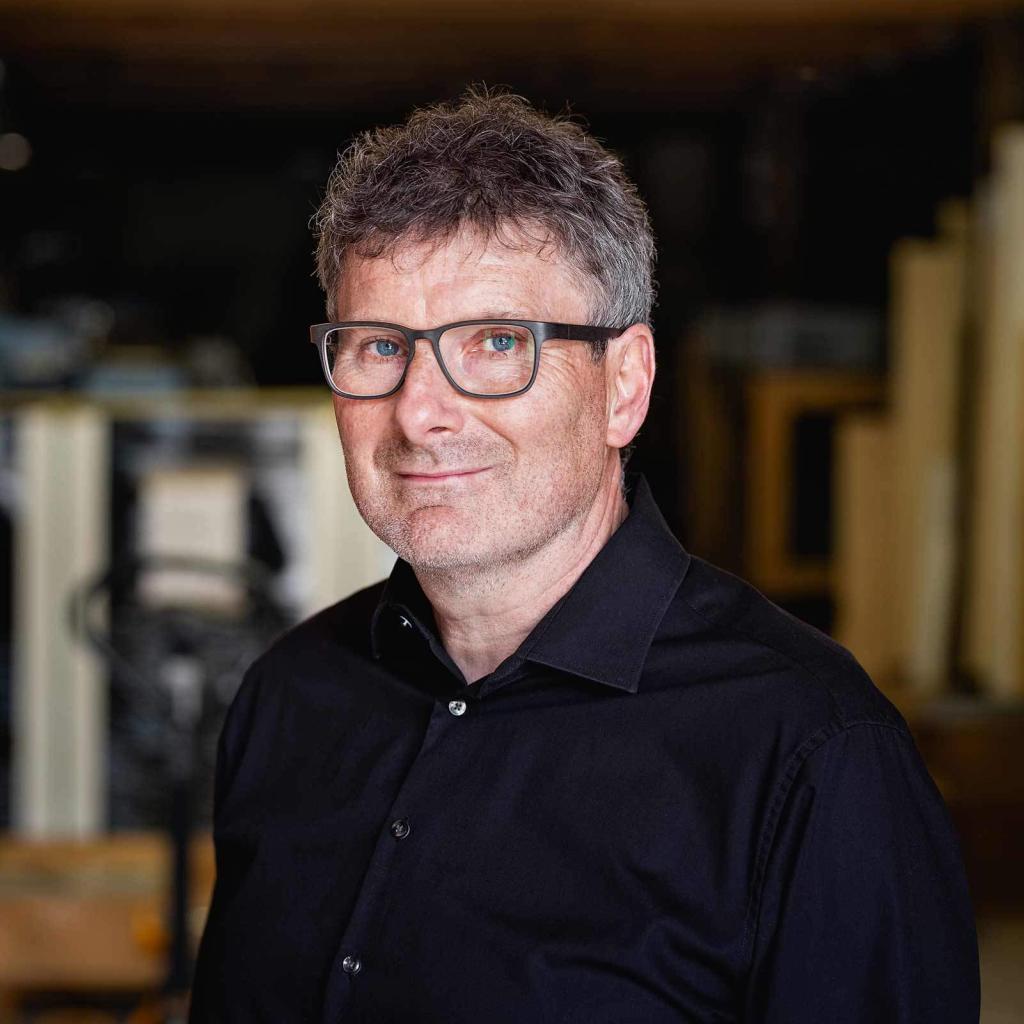 Reiner Ruggaber
Sie haben Fragen? Rufen Sie uns an oder schreiben Sie uns eine Nachricht!
Sie können uns unter der Rufnummer +49 07402 8414 oder mit der E-Mail info@RUWI.de erreichen. Auf unserer Konaktseite finden Sie weitere Möglichkeiten um mit uns in Kontakt zu kommen.