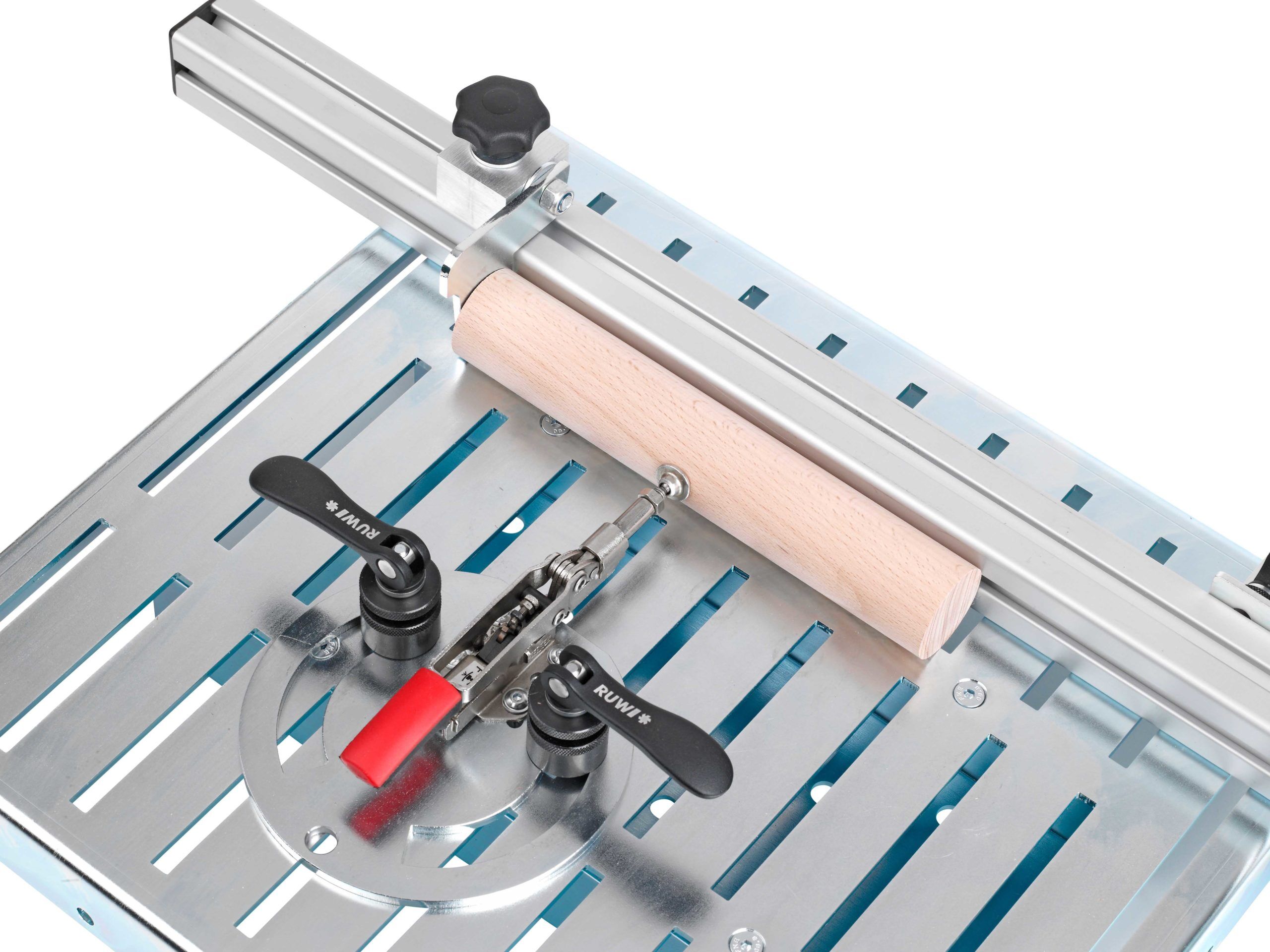 Drilling table made of sheet steel for drilling machines
Fixed: Workpieces on the pillar drill
The RUWI drilling table with grooves for fixing workpieces on machine tables speeds up work processes on box column drills and provides more security. Clamping elements and stop modules, stop elements and stop rails are freely positioned and fixed without tools. Stop elements can be folded up on the RUWI drilling table made of 4mm galvanized sheet steel. Everything succeeds here in the blink of an eye. Vertical clamps, vice and table extension are further accessories. With them, the drill table can cope with almost all requirements.
The simplest, tool-free operation as well as the operational readiness of the clamping plate, clamps and stops in seconds provide security in handling.
Infinitely adjustable and finely adjustable stops can be positioned very precisely, and can also be used in series production.
All accessories can be freely positioned in the grooves of the clamping plate. With the table extension, the use of large workpieces is also extremely easy.
RUWI drilling table: diverse application possibilities
The RUWI drilling table can be easily and quickly mounted on existing machine tables. For example, pillar drilling machines, as can be found in every company, can be upgraded with a manageable investment. Such machine tables then offer the user real added value and a clear plus in security and flexibility.
| Technical data | RUWI drilling table Classic | RUWI drill table Premium |
| --- | --- | --- |
| | | |
| Table size | 450 mm x 400 mm | 450 mm x 400 mm |
| Stop ruler | 720 mm | 720 mm |
| Foldable and sliding stops | 2 | 2 |
| Fixing rails for table extension | – | 3 |
| Table extension | – | 1 |
| Net price | €524.00 | €714.00 |
Drill table accessories
Push – turn – fix, it couldn't be easier or faster. With the comprehensive range of accessories for the RUWI drilling table, you gain valuable time and more safety in no time at all. Clamping and stop elements are fixed without tools using the quick-release clamps included in the scope of delivery.
The vertical clamp set contains an adapter plate, two quick releases and one vertical clamp. The clamps increase safety and increase efficiency in drilling operations. Comfort plus: The automatic height compensation handles material thicknesses from 0 – 40mm completely by itself. This means that the vertical clamp is securely positioned and fixed on the drilling table with the clamping plate in no time at all, without the use of tools. The circular adapter plate belonging to the set ensures precision and flexibility when positioning the pressure spindle.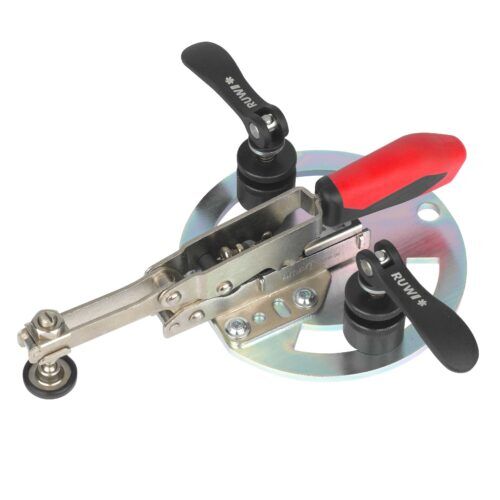 Additional support surfaces are provided by table extensions that are hung and clamped onto the mounting rails on the side of the clamping plate.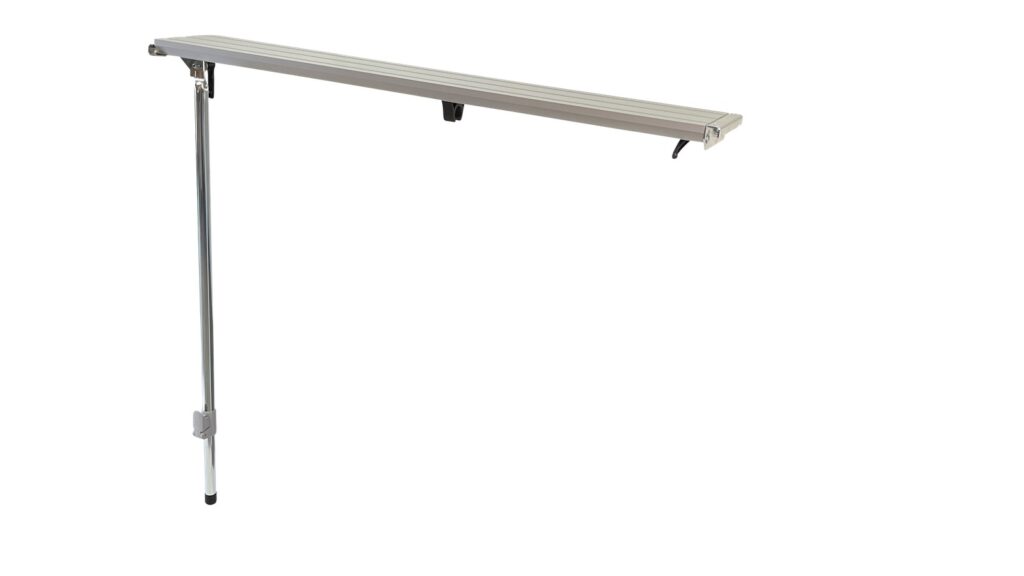 The position bracket set contains a position bracket and a quick release. The quick release fixes the position angle precisely at any point in the clamping plate, on the stop ruler or on the table extension. The stop height and depth can be finely adjusted with the stop screw. With this pre-setting, workpieces can also be machined in series with the greatest possible precision.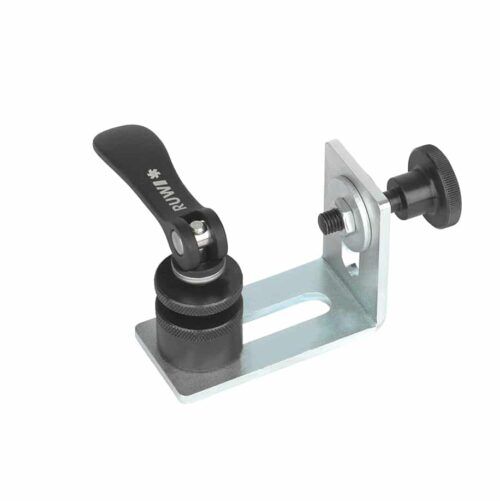 The machine vise set consists of two quick-release clamps and a machine vise. The vice is positioned and fixed on the clamping plate in no time using the two quick-release clamps. This set increases the efficiency and safety when working on pillar drilling machines.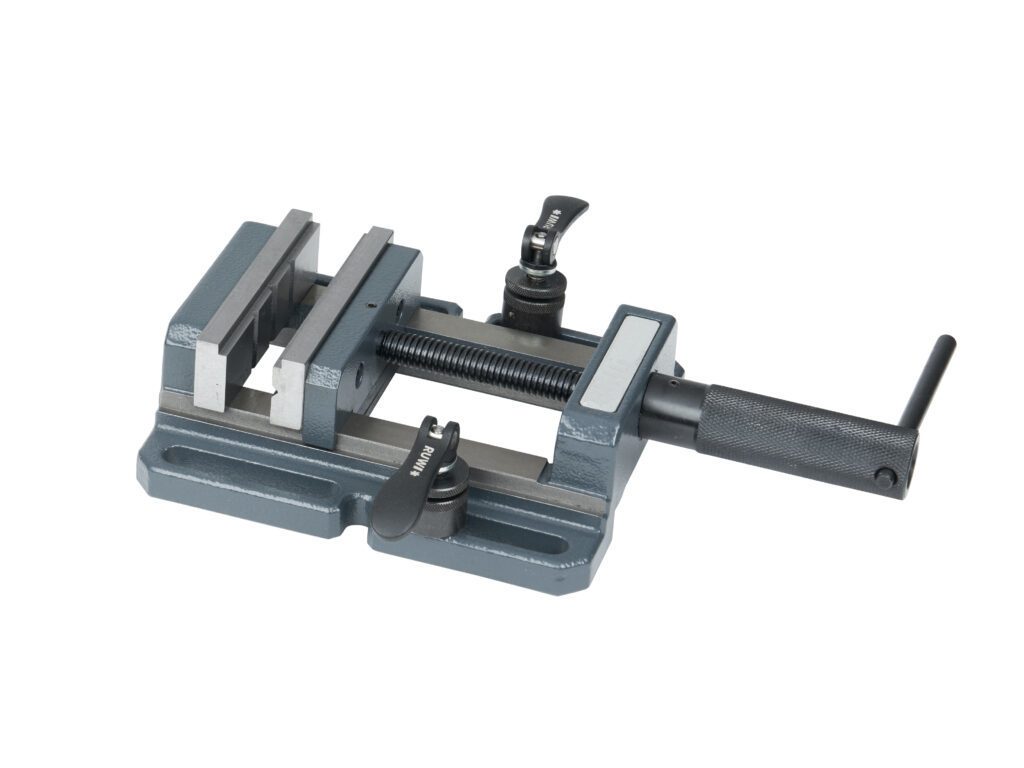 Garantie

At RUWI, we give our products a particularly long life expectancy, always use the best materials and take responsibility. That is why we guarantee you our goodwill and, as the saying goes, "customer-oriented guarantee behavior". We stand for what we like to do beyond the legally prescribed manufacturer's guarantee of two years, as a competent contact person and consultant on all channels, also by telephone. Contact us if you should ever need spare parts after many years. We guarantee the availability of spare parts for a long time.
Service

Service is the German word for it. We are happy to provide our service for your satisfaction and, whenever possible, immediately. Your spare parts order usually leaves our company on the same day. A competent and experienced team always has an open ear for all your questions, also on the phone – in short, service is a matter close to our hearts.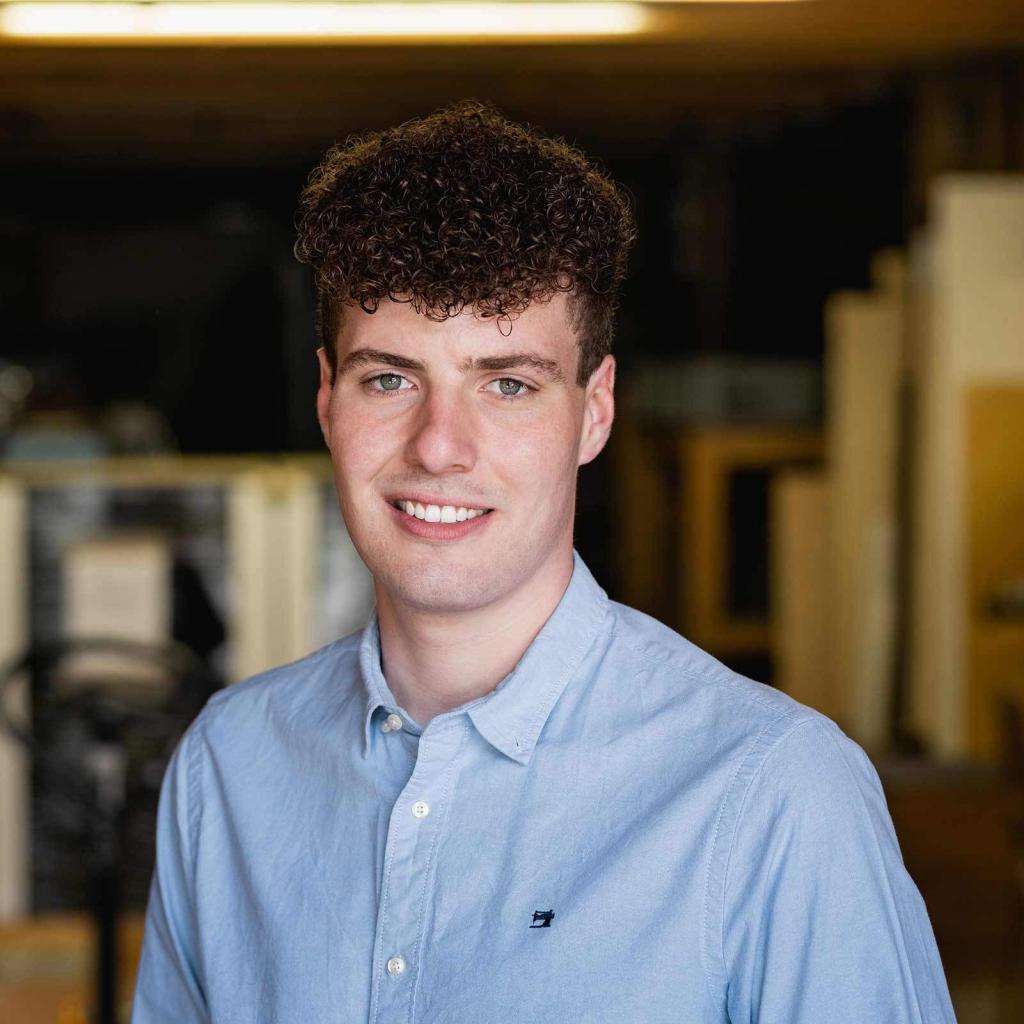 Florian Ruggaber
Any questions? Call us or write us a message!
You can reach us on +49 07402 8414 or by e-mail info@RUWI.de. On our contact page you will find other ways to send us a message.