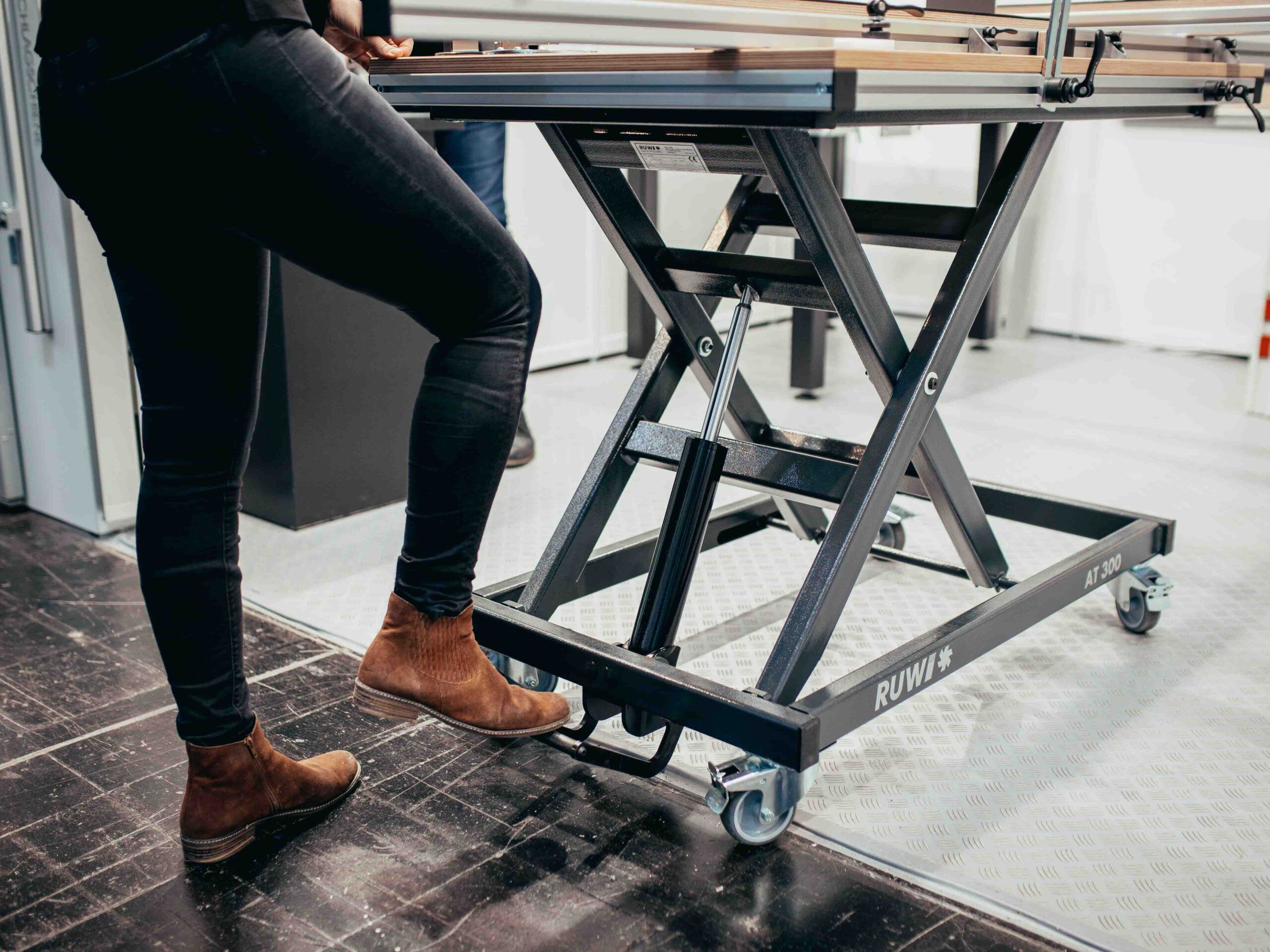 RUWI lifting table – mobile scissor lifting table
Lift table, workbench and work table
For carpenters, carpenters, professional do-it-yourselfers and the wood industry
RUWI convinces with expertise and experience
Innovative solutions for trade & industry
For excellent results you need optimal working conditions. The RUWI lifting table can be an important component here: The mobile scissor table can be operated without tools using smooth-running hydraulics and can be brought to the perfect working height. With these properties, a RUWI work table can increase your efficiency many times over. But that's not all that our workbench models impress with. What she expects? 1 lifting table – 1,000 possibilities!
A RUWI lifting table for all cases
With this high-quality, extremely load-bearing and continuously height-adjustable lifting table from the RUWI think tank, you create optimal working conditions for yourself and your employees. Ergonomics and flexibility paired with the highest quality "Made in Germany" make the RUWI lifting table / work and assembly table fit for all applications in woodworking under tough production conditions in trade and industry as well as in training workshops, educational institutions and workshops for the disabled.
Who benefits from the RUWI lifting table?
Thanks to its multifunctional properties, the heavy-duty scissor lift table has a wide range of applications and optimizes and facilitates the work process of a large target group. If you are looking for an inexpensive and high-quality lifting table, work table or assembly table, you will not only find the right product in our range, but also a first-class all-rounder.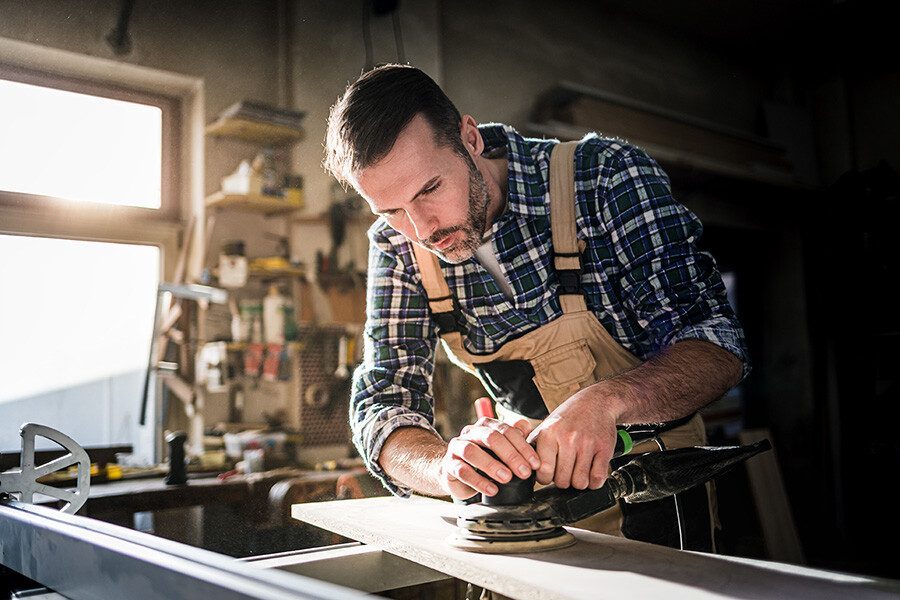 carpenter/carpenter
Planing, sawing, assembling, safely and conveniently – no problem on the RUWI workbench.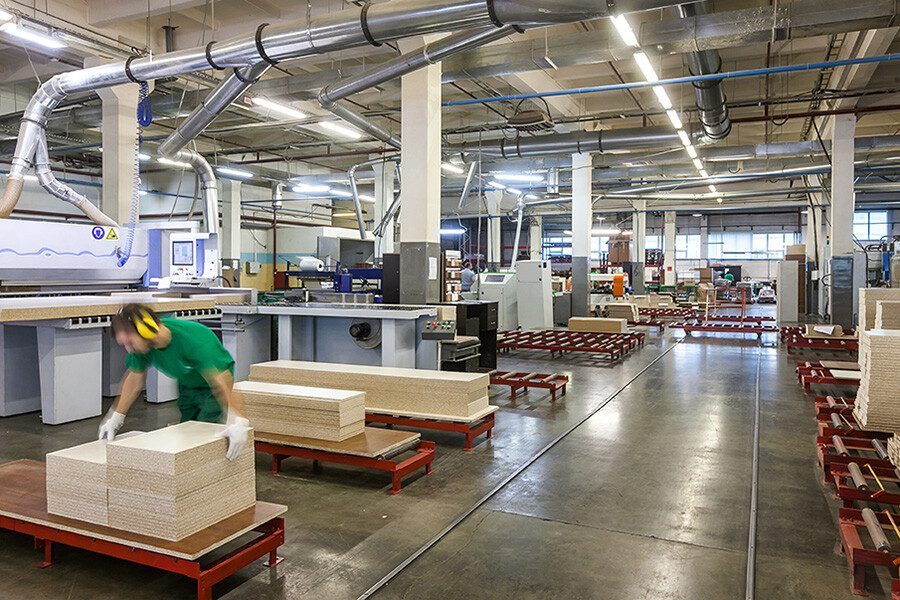 wood industry
Stacking trolley and workstation in one: The high load capacity of the table and the castors make the RUWI scissor table the perfect helper, even with high demands.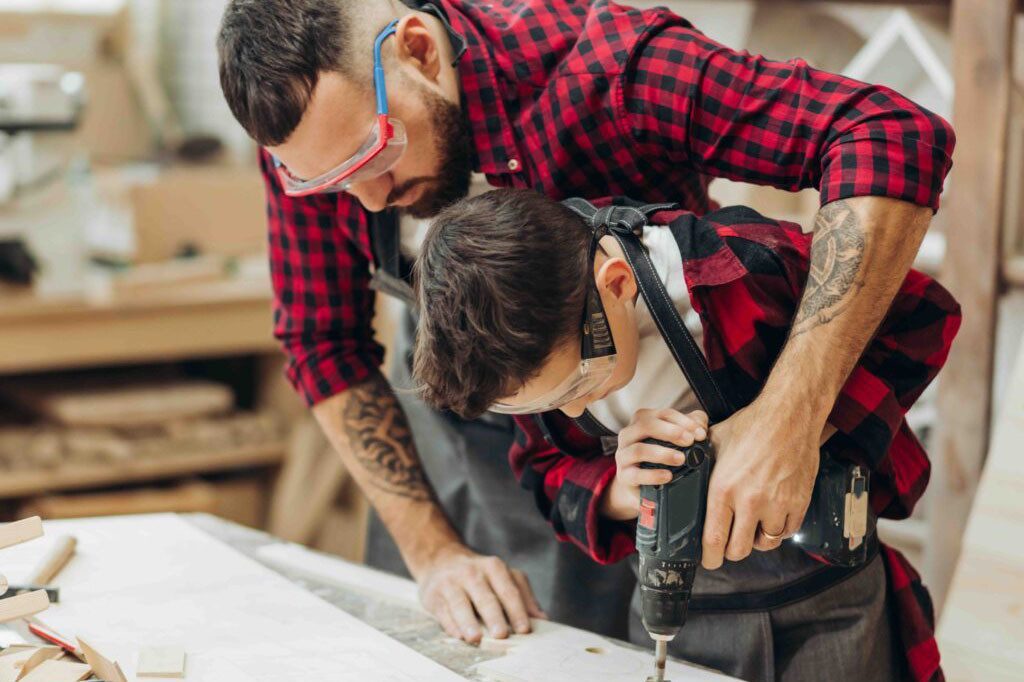 Professional do-it-yourselfer
Since the RUWI scissor table is extremely versatile, it is the ideal workbench for ambitious do-it-yourselfers.
A lifting table has to do a lot
Safety, ergonomics and efficiency
Time is money, so effective work with exact results is extremely important (not only) in wood processing. A lack of ergonomics and safety at the workplace are also cost factors, which can easily be minimized by flexible and high-quality work equipment and stations. There is a solution to prevent health problems and demotivation while maintaining maximum ergonomics, flexibility and comfort: the RUWI lifting table.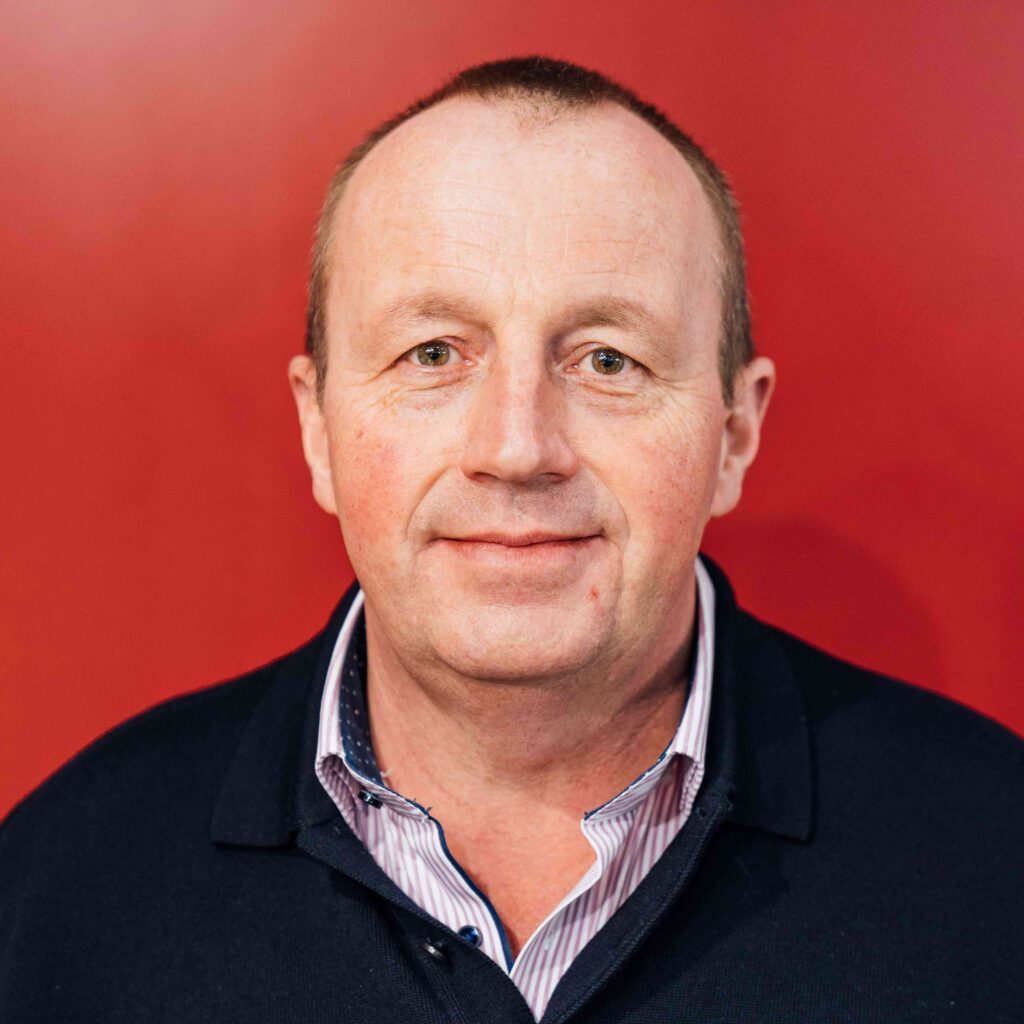 Michael Böker (Joinery Boker)
Once RUWI – always RUWI!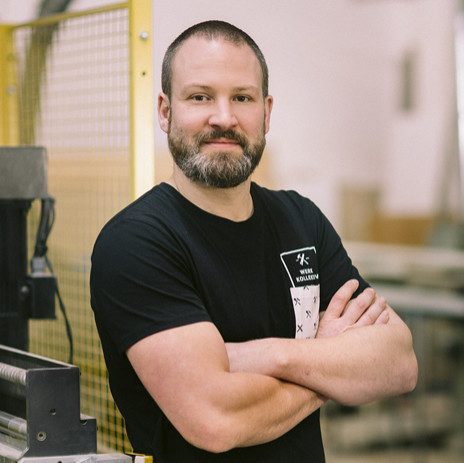 Christopher Wilkens (Werkkollektiv GmbH)
RUWI creates optimal working conditions for a wide variety of tasks. Health and quality are paramount.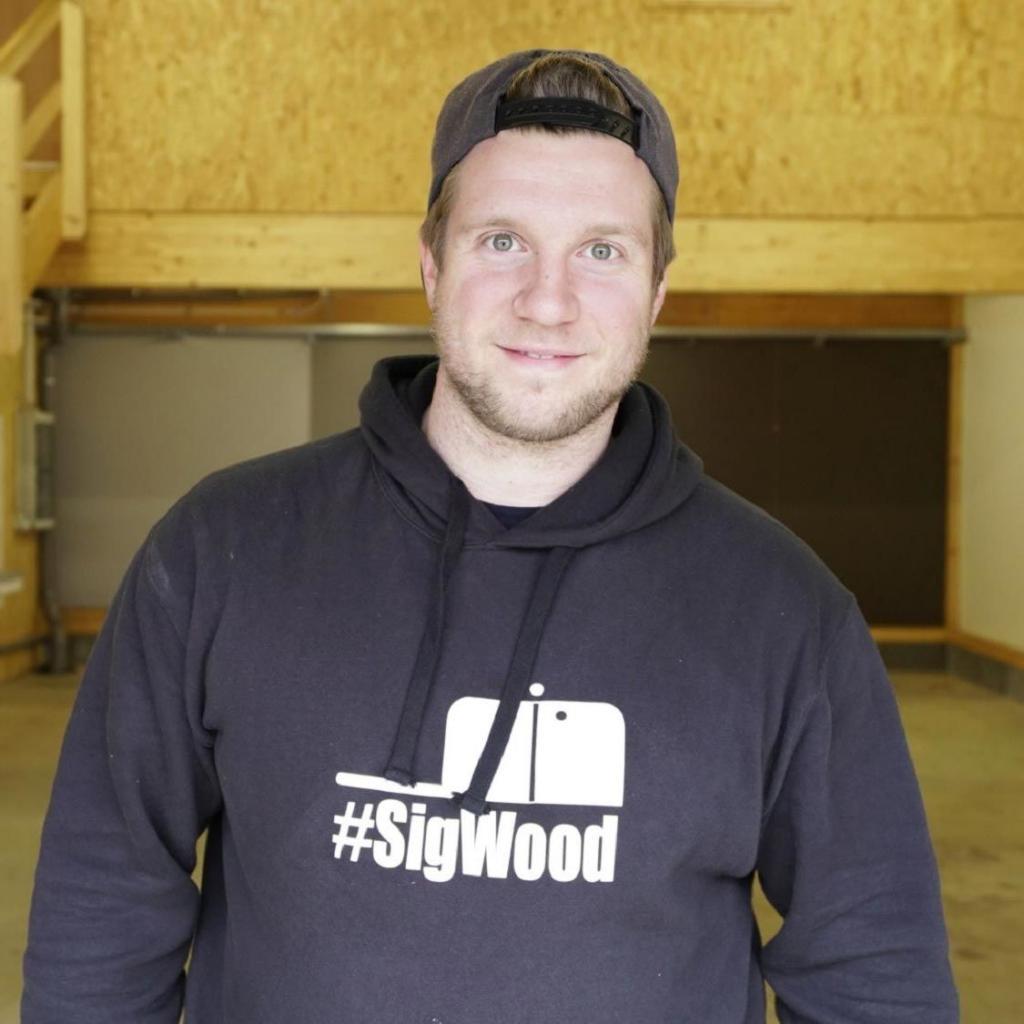 Siggi Hofmann (Influencer)
Unsere RUWI Hubtisch Modelle
Wir wollten einen Hubtisch entwickeln, der ein echter Allrounder ist und viele Bedürfnisse in der Holzbearbeitung in nur einem Arbeitstisch kombiniert. Das Ergebnis ist eine vielseitige Werkbank, die sich für viele Projekte und Einsätze eignet – sie ist höhenverstellbar, leicht bedienbar, fahrbar, stabil konstruiert und besteht aus hochwertigen, praktischen Komponenten.
Technische Daten
RUWI Hubtisch Basic
RUWI Hubtisch Classic
RUWI Hubtisch Premium
Besonderheit
Hubtisch mit HPL Lochrasterplatte
Hubtisch Set mit HPL Lochrasterplatte, Schubkasten und Stauraum
Hubtisch Set mit HPL Schwenk-Lochrasterplatte, Schubkasten und Stauraum
Arbeitsfläche
1200 x 800 mm

1600 x 800 mm
(2200 x 800 mm
ausgezogen)
1200 x 800 mm
(1200 x 1600 mm
aufgeschwenkt)
Traglast Untergestell
300 Kg
300 Kg
300 Kg
Arbeitshöhe
45 – 105 cm
53 – 113 cm
57 – 117 cm
Höhenanpassung
Hochwertige Hydraulikpumpe
Hochwertige Hydraulikpumpe
Hochwertige Hydraulikpumpe
RUWI-Funktionsplatte ø 20 mm
X
X
X
Arbeitsfläche
Multiplex mit HPL Beschichtung
Strapazierfähige HPL
Beschichtung
Strapazierfähige HPL
Beschichtung
Schubkasten und Stauraum
X
X
Auflageschienen
4 Auflageschienen + Klemmwinkel
Artikelnummer
21011
21067
21069
Nettopreis / zuzüglich Versandkosten
1.494 €
2.098 €
2.873 €
RUWI Hubtisch Basic kaufen
RUWI Hubtisch Classic kaufen
RUWI Hubtisch Premium kaufen
---
Multifunktionaler Arbeitstisch
Warum in mehrere Arbeitstische investieren, wenn man alles in einem haben kann?
In einer Werkstatt kann es schon mal eng werden. Aber große Projekte benötigen manchmal viel Platz. Mit dem RUWI Schwenktisch haben Sie volle Flexibilität in beiden Situationen: Mit seiner Größe von 120 cm x 80 cm bietet der Lochraster Schwenktisch eine gute Plattform für viele Projekte. Bei größeren Werkstücken lässt er sich mit wenigen Handgriffen aufschwenken und verdoppelt so die Arbeitsfläche auf fast zwei Quadratmeter. Zusätzlich besteht immer die Möglichkeit, die Auflageschienen so im Lochraster zu fixieren, dass sie über den Tisch hinausragen und so die Fläche nochmals in Länge und Breite vergrößern.
1. Hubtisch – 1000 Möglichkeiten ist für uns kein leerer Slogan, sondern unsere Agenda und unser Angebot an Sie!
Lochrasterplatte mit komfortabler Spanntechnik
Die hochwertige Lochrasterplatte mit beidseitiger HPL Beschichtung ermöglicht den Einsatz von vielfältigem Zubehör. In den präzisen 20 mm Bohrungen können so verschiedenste Spannelemente, sowie flexible Anschlag- und Auflagemöglichkeiten positioniert werden. Durch die innovativen Klemmbolzen funktioniert dies schnell und meist sogar werkzeuglos. So verwandelt sich der Hubtisch schnell vom wendigen Stapel- und Transportwagen zu einer hochfunktionalen Montagewerkbank mit großem Schubkasten für Zubehör sowie Stauraum für Auflageschienen und Schraubzwingen. Hier ist alles griffbereit und somit zeitsparend aufgeraumt.
Nur einer der Vorteile von unserem höhenverstellbarem und ergonomischen Universalarbeitsplatz.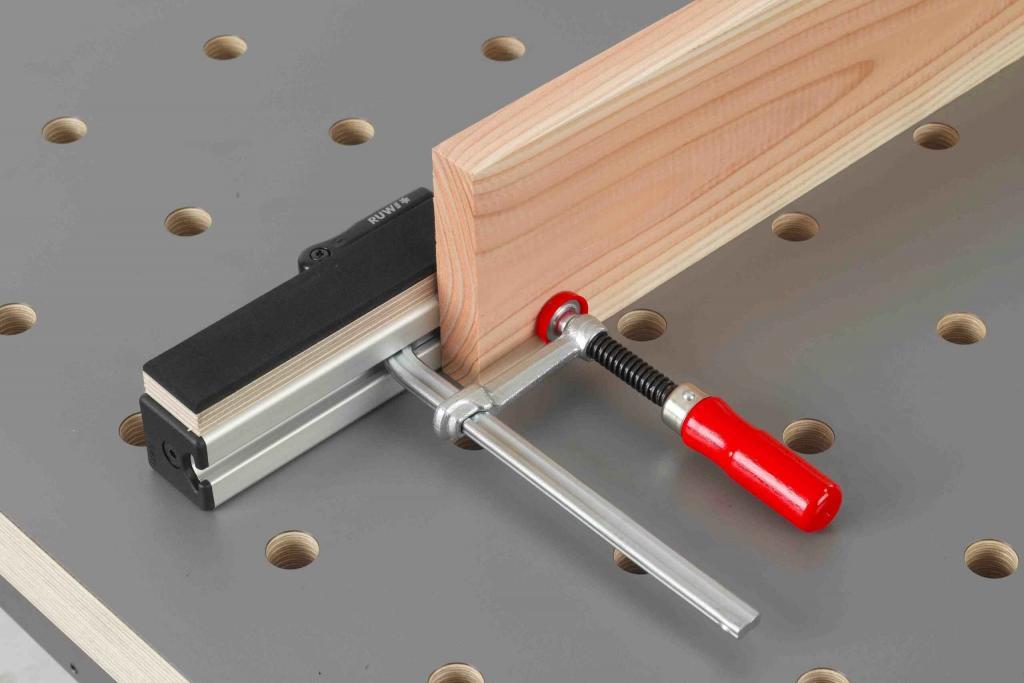 Werkzeuglos klemmen und fixieren
Dank der werkzeuglos bedienbaren Klemmwinkel mit Klemmhebel verwandelt sich die Montagestation schnell zum Verleimtisch. Leimrückstände und ähnliches lassen sich problemlos von der strapazierfähigen HPL Oberfläche entfernen.
Stauraum und Schubkasten
Klemmen und anderes Zubehör können griffbereit in der Schublade verstaut werden, mehrere Auflageschienen finden unter der Tischplatte im Stauraum den Platz.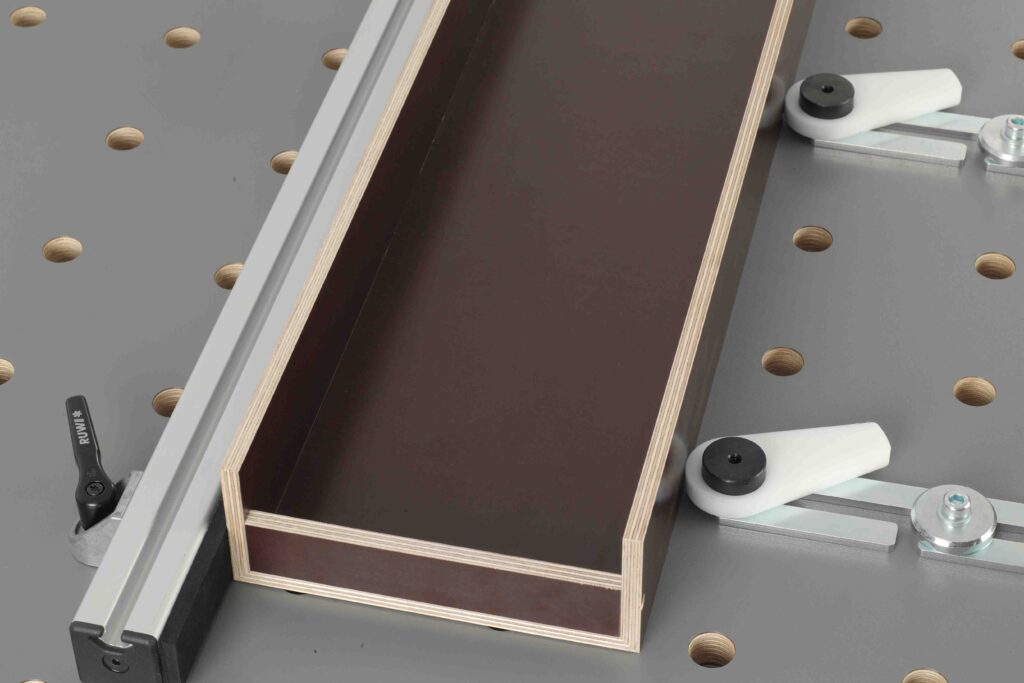 Multifunktionale Arbeitsfläche
192 Löcher bieten Nutzern vielseitige Möglichkeiten, um die strapazierfähige Arbeitsplatte passend zum Projekt umbauen zu können.
Double workspace
In addition to the configuration options described above, this is about the work surface of our premium lifting table. Because it has a huge advantage:
Equipped with a swiveling 2-plate system, the work surface can be doubled. And as you already know from RUWI: The whole thing works without tools using a clamping lever. In just a few seconds, the work surface has been enlarged from 120 x 80 cm to 160 x 120 cm. You can create even more work space if you let the side rails (120 cm long) fixed to the hole grid protrude over the worktop.
The all-rounder as a space saver
Thanks to the high level of compatibility and configurability, a RUWI lifting table can replace other workstations and thus create space in the workshop.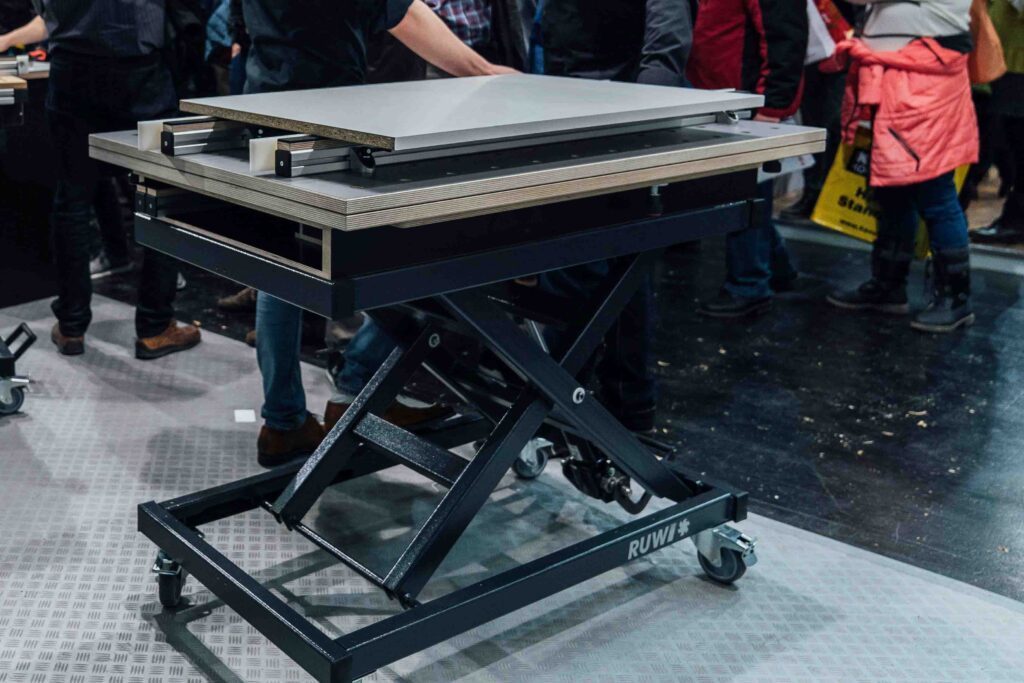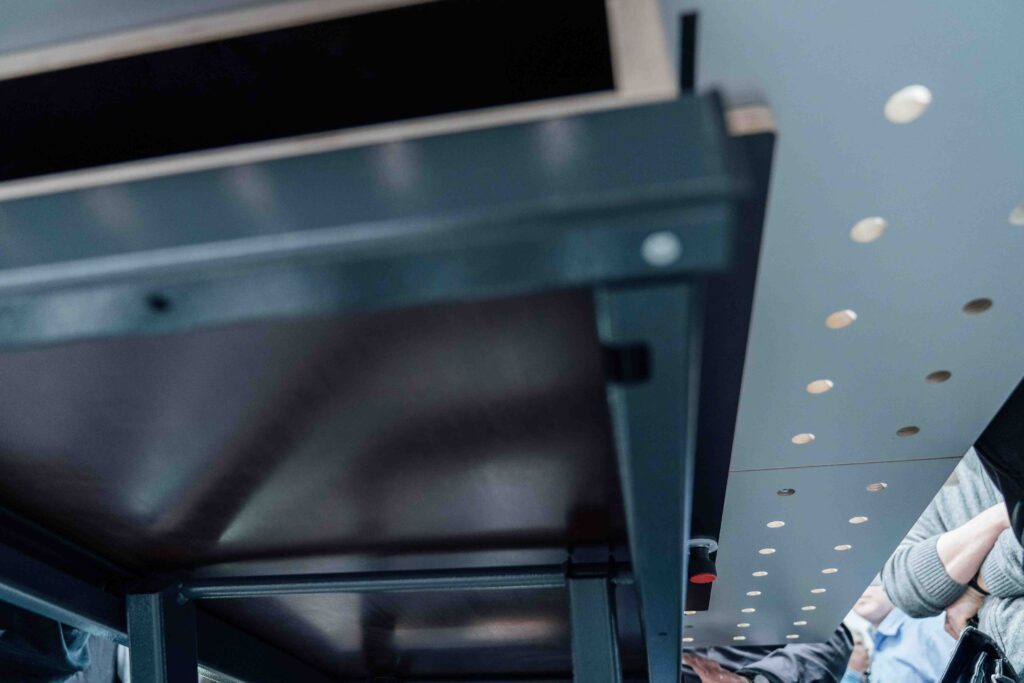 Expandable workbench
The RUWI lifting table with swiveling grid plate can be doubled in size in just a few simple steps – and all without tools.
160 x 120 cm work surface
The large 20 millimeter hole pattern of the worktop offers a multitude of possibilities and a perfect workplace for woodworking.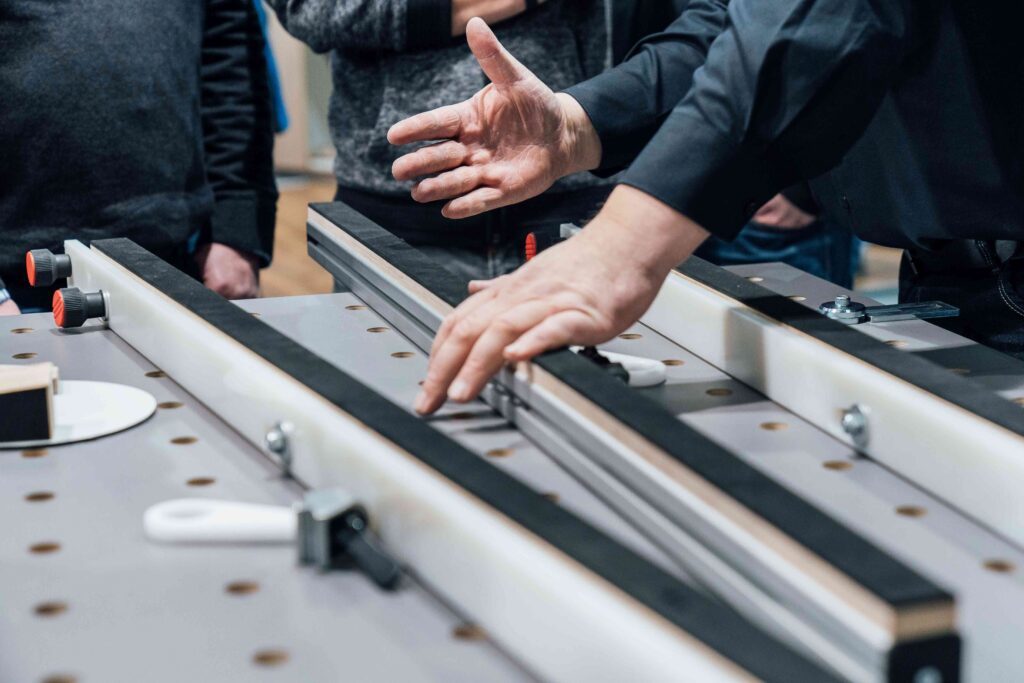 Ergonomic work at the RUWI work table
Optimum working conditions pay off in several ways, which is why investing in a back-friendly lift table is worthwhile.
Manual work can put an enormous strain on the body. Many materials are heavy and become even heavier after assembly. In addition, people often work in a crooked position, especially if the height of the work table cannot be adjusted. The result: muscular imbalances, neck tension, headaches. A workbench with flexible configurability promises a remedy.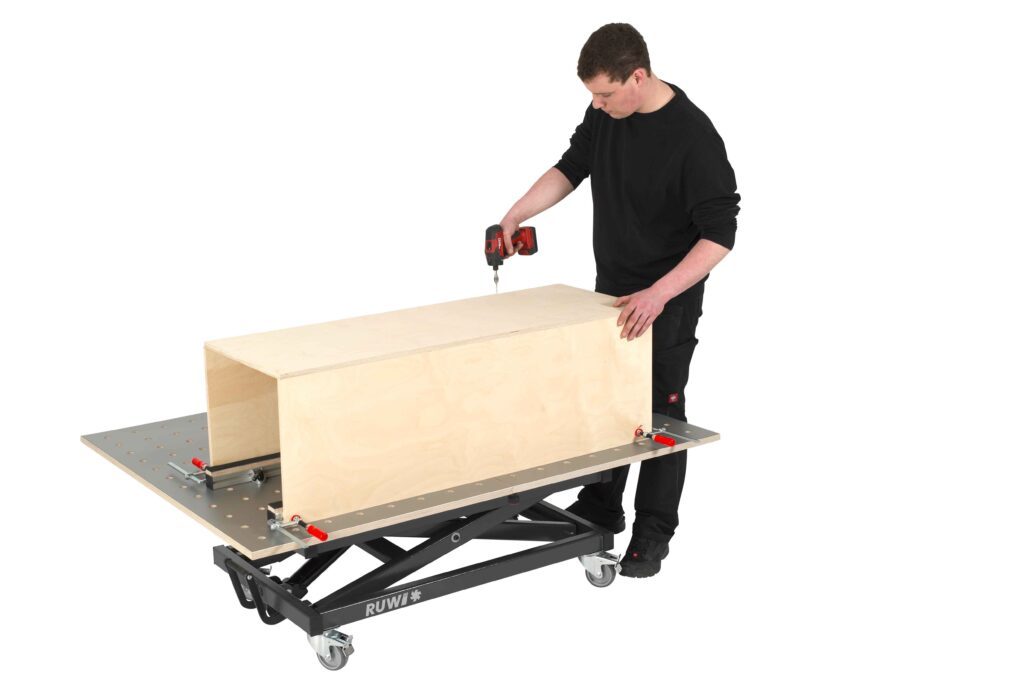 Ergonomic workplace
The RUWI lifting tables are all designed to be adapted to any work situation using clever solutions – this protects your back and keeps your head free.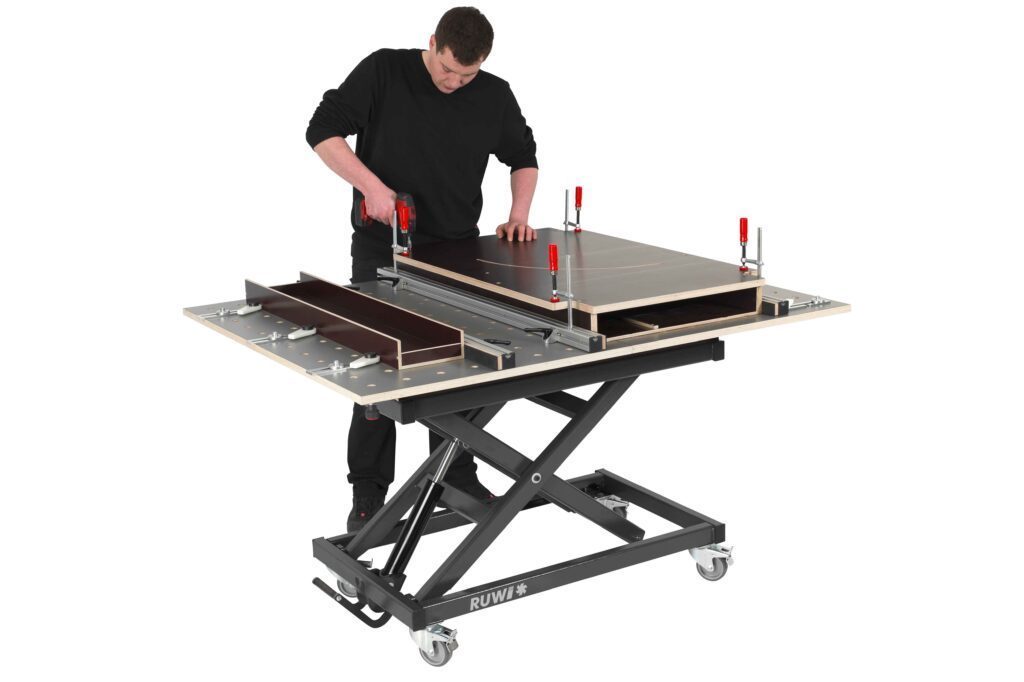 Height-adjustable workbench
Not only the size of the craftsman is decisive, but also the size or height of the workpiece. The RUWI lifting table can be easily adjusted to the perfect working height using hydraulics.
transport loads
The four lockable castors make the RUWI workbench mobile and thus a resilient means of transport. Many heavy or unwieldy workpieces no longer have to be laboriously carried through the workshop.
Comfortable handling
Less bending, less carrying, less contorting: A RUWI lifting table can be operated without tools, has a comfortable hydraulic foot pedal and offers a configurable smart tool system with clamps and quick-release clamps that are clamped in the hole pattern.
Flexible lifting table accessories
Push – turn – fix, it couldn't be easier. The clamping system accessories for groove and perforated worktops from RUWI Maschinenbau are extremely flexible in use. It fits perfectly with the lifting tables but also with all other multifunctional tables with a groove width of 8-10mm or a hole pattern of 20mm, such as Festool MFT, MW 1000 or Sortimo Workmo. All components can be positioned without tools in next to no time. In this way, the simplest but also the most complex constructions are created, which are extremely time-saving and can be varied or dismantled just as quickly. In the RUWI online shop you will find our entire range of lifting table accessories .
Safety, quality, innovation
An innovative workbench is of no benefit if it does not meet safety standards. RUWI therefore relies on high-quality and resilient components.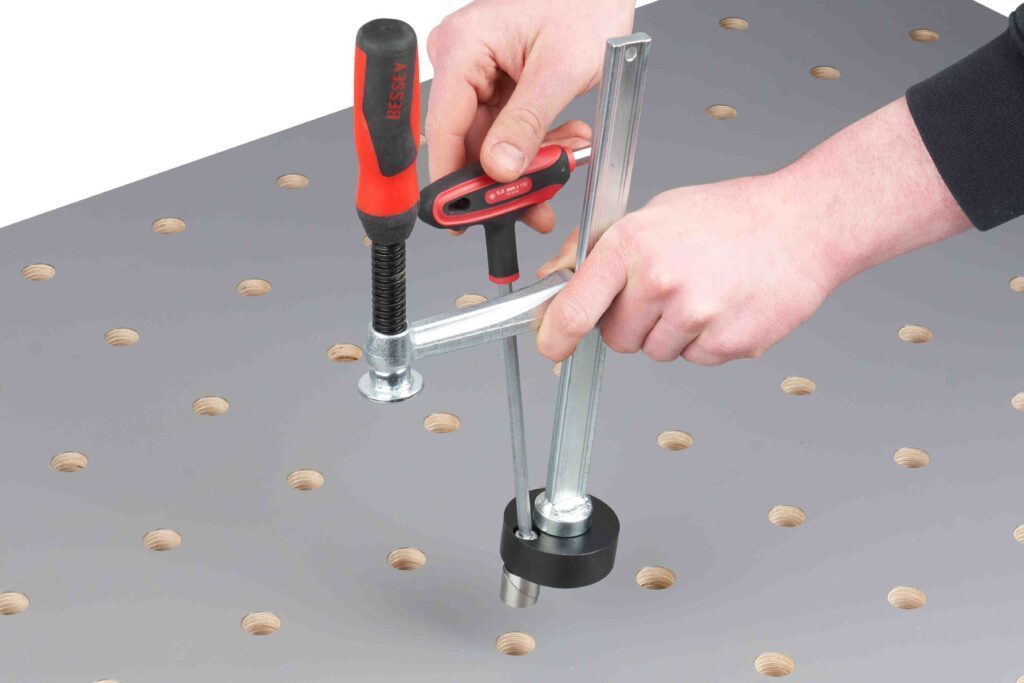 RUWI lifting tables ensure a high level of safety:
anti-slip covering
high-quality materials
resilient components
professional welds
safe handling at work
ergonomic way of working possible
Security through quality
In order to be able to guarantee a high load capacity and complete safety, only high-quality materials are used and carefully processed for RUWI work tables. The scissor construction consists of solid square tubes. 300 kg load capacity and still very manoeuvrable, thanks to the four swivel castors made of robust solid rubber. Due to the material and diameter, the wheels offer comfortable driving characteristics. The worktops consist of low-warping multiplex panels, which are coated on both sides with an HPL layer. The surfaces are extremely durable.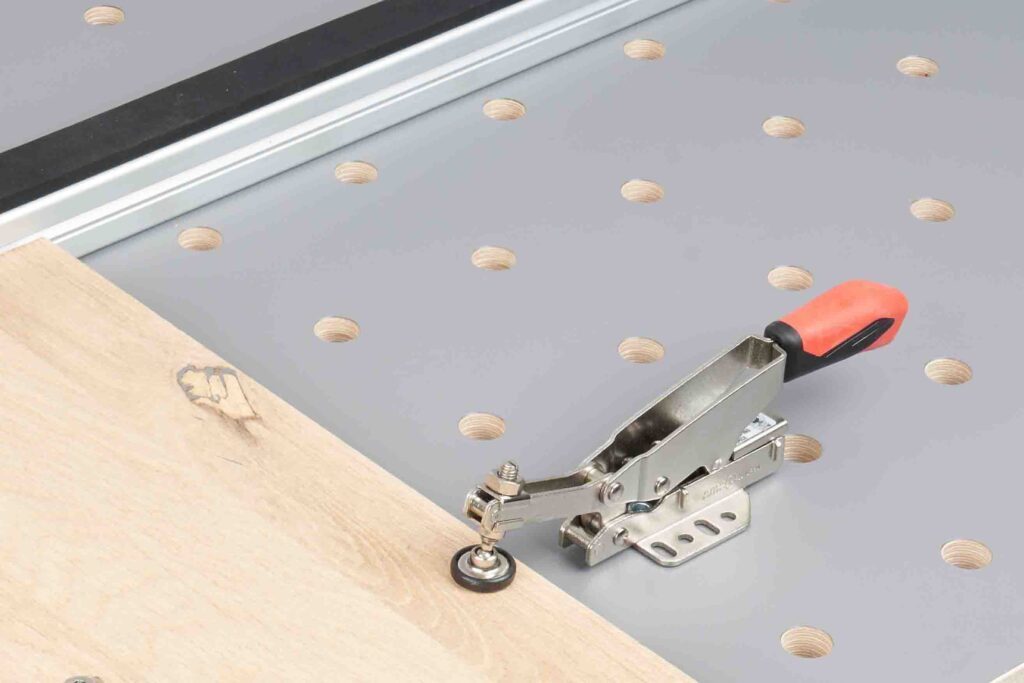 Safety through innovative accessories
High-quality multifunctional tables and innovative accessories show that safety first and efficiency can be reconciled. The robust clamping brackets, bolts and clamps ensure that the support rails are clamped quickly and securely within seconds. These profiles are provided with an anti-slip coating. If it wears out after a long time, you can easily replace it.
---
The most important lift table properties at a glance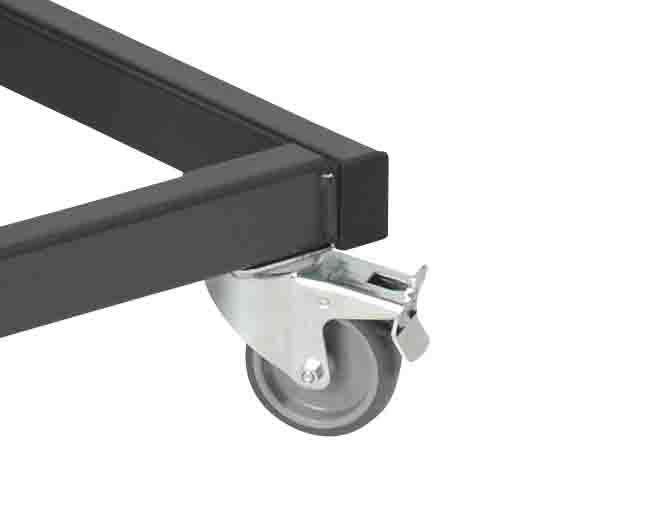 Mobile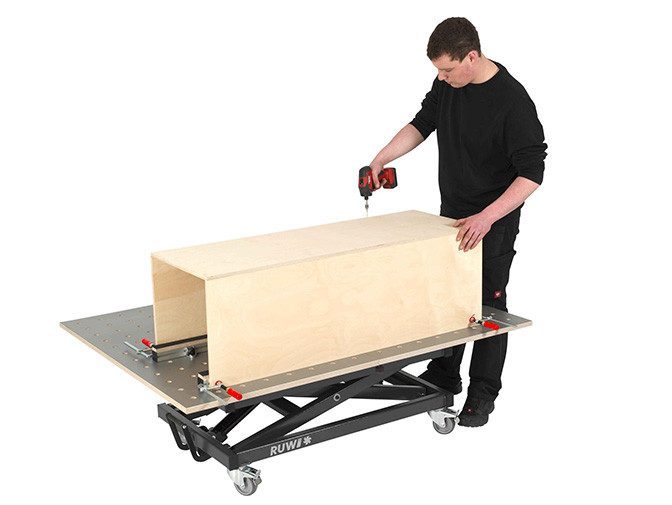 Height adjustable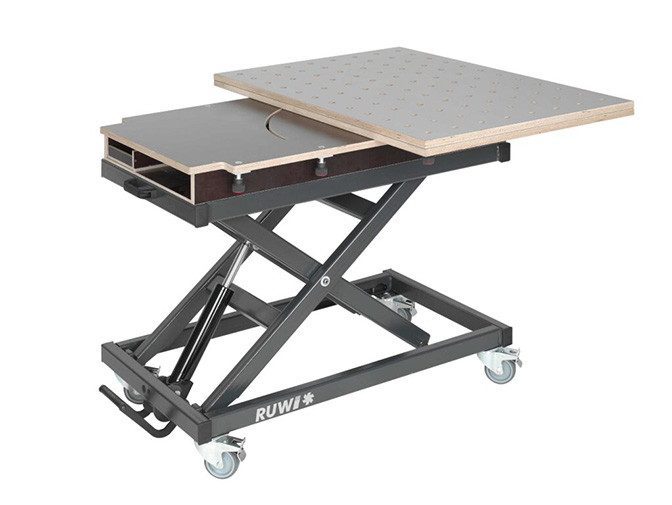 Expandable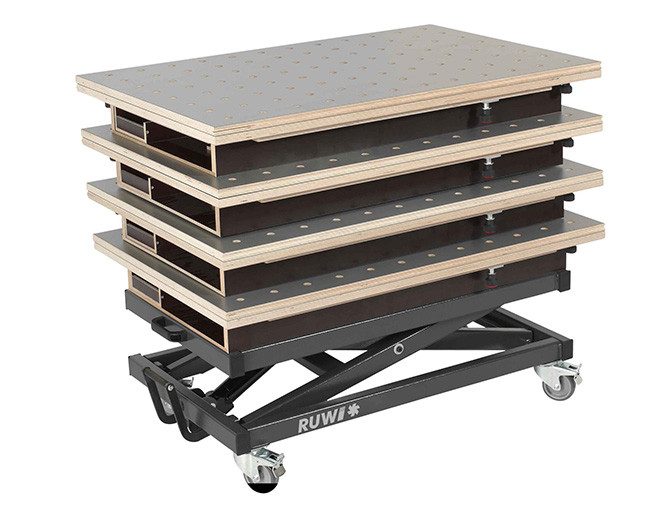 Durable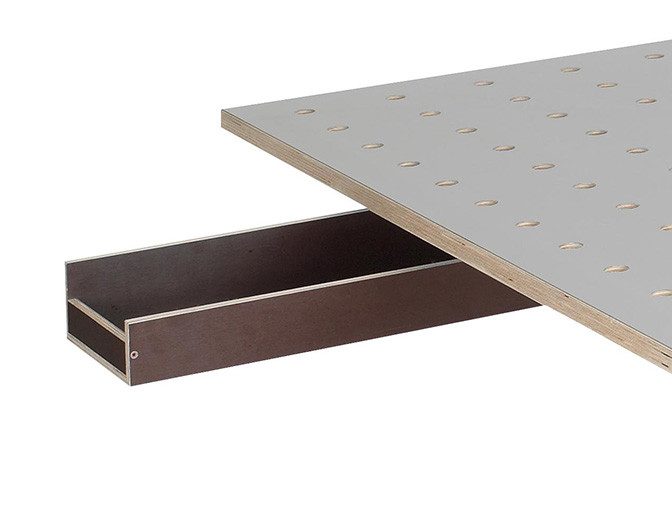 Ergonomic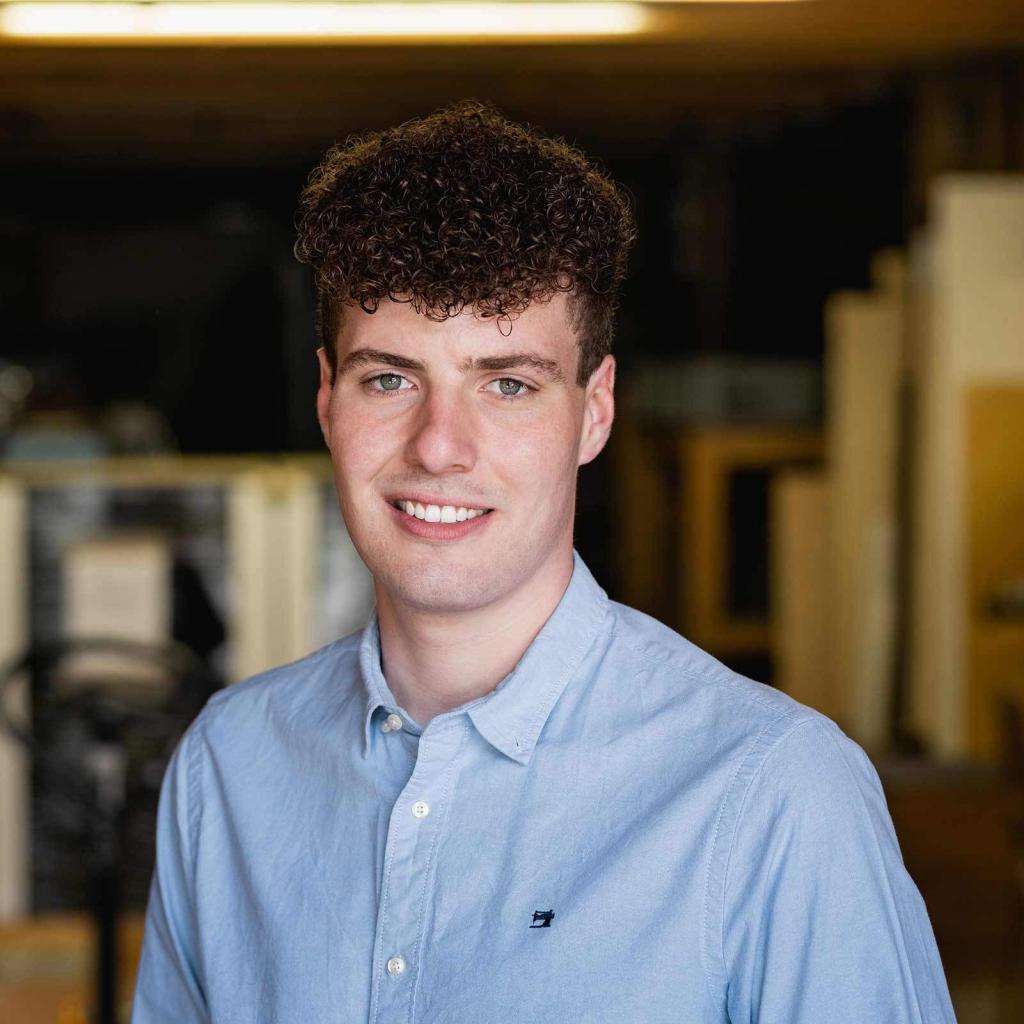 Florian Ruggaber
Any questions? Call us or write us a message!
You can reach us on +49 07402 8414 or by e-mail info@RUWI.de. On our contact page you will find other ways to send us a message.