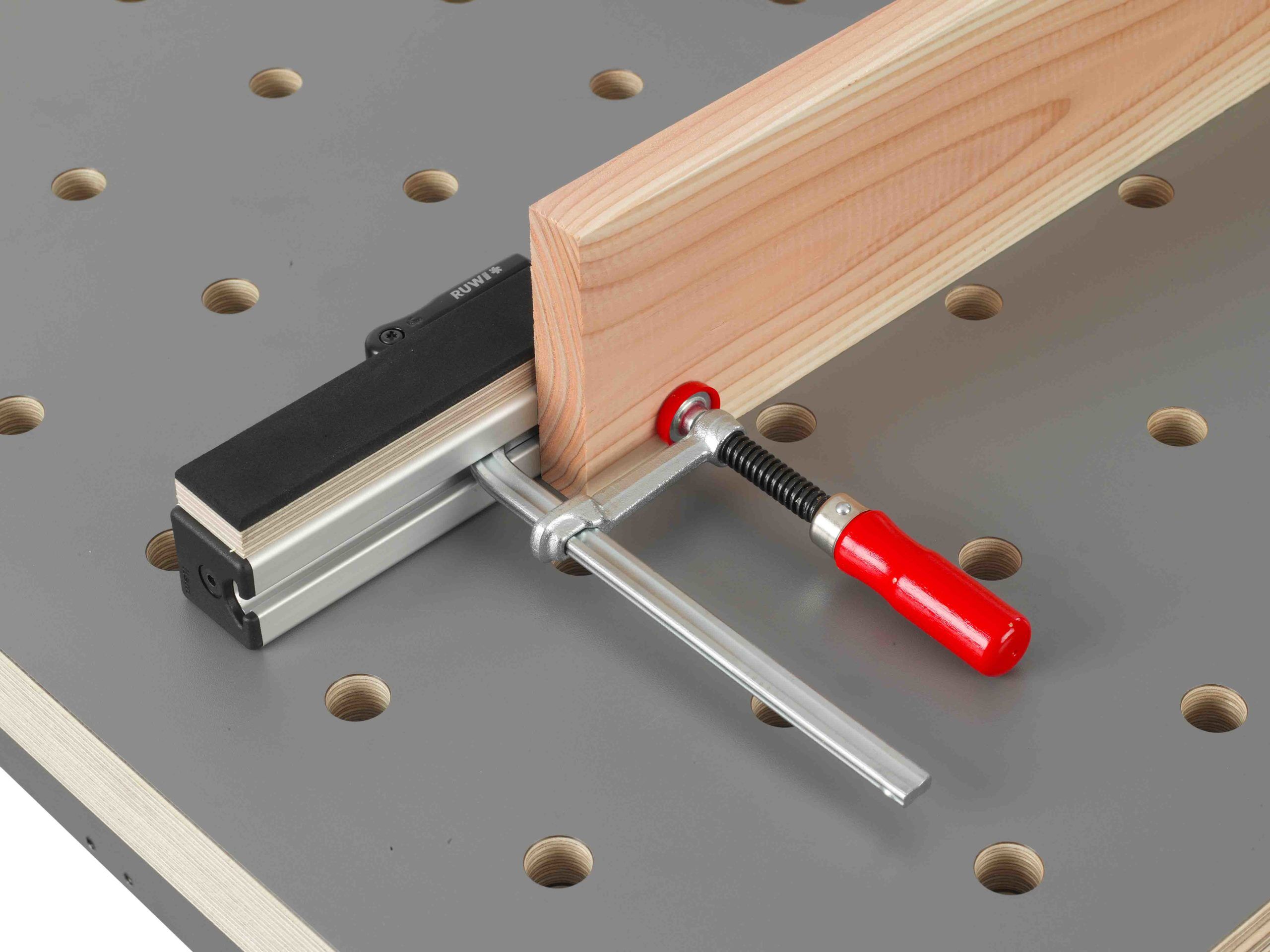 RUWI lifting table
All-purpose lifting table
This top-quality lifting table from our think tank at RUWI is extremely resilient and its height is continuously adjustable, allowing you to create the optimal working conditions for you and your employees. Ergonomics and flexibility combined with the highest "Made in Germany" quality make this lifting table fit for all woodworking applications. It is just as suitable for use in crafts and industry under tough production conditions as in training workshops, educational institutions and sheltered workshops.
The high-quality, smooth hydraulic system, operated by means of a foot pump, raises the lift table to an ergonomic working height and thus avoids putting strain on your back. There are clear advantages such as fewer days lost due to sickness, increased productivity and cost savings as a result of having a healthy, motivated workforce.
With either a groove or perforated grid system, this lifting table is an excellent all-rounder. You can vary the table size with a swivel-out feature or support rails. In combination with the wide range of accessories, this table can meet almost any needs. Its high levels of functionality and flexibility inspire the worker with enthusiasm for their everyday work.
This extremely stable and resilient lifting table has four lockable swivel casters so it's ready for action wherever you need it. A mobile, versatile all-rounder, it can even be used for intralogistical tasks such as in-house transport of materials.
Numerous possible applications
The lift table comes in various sizes and with different surfaces such as the groove and perforated grid systems. It also has a comprehensive set of accessories, ranging from the unique RUWI quick clamp to the vise. You can easily double or expand the work surface. The height of the lifting table is adjustable using a hydraulic foot-operated pump and it can bear weights of up to 300kg.
Lifting table with Ø 20mm grid panel
With a HPL perforated grid panel containing 96 precisely machined 20mm holes for working with wood or plastics, the RUWI lifting table is available in three different versions. This multifunctional, highly versatile and extremely resilient mobile workbench is a great asset to any user, not least from an ergonomic point of view. Workers also benefit from the use of RUWI tool-free clamping and stop elements, the fact that the table height is continuously adjustable and its compatibility with many accessories from other manufacturers.
| Technische Daten | Arbeitstisch HPL Lochrasterplatte | Set mit Schubkasten und Stauraum | Set mit Schwenk-Lochrasterplatte |
| --- | --- | --- | --- |
| | | | |
| Arbeitsfläche | 1200 x 800 mm | 1200 x 800 mm | 1200 x 800 mm (1200 x 1600 mm aufgeschwenkt) |
| Traglast Untergestell | 300 kg | 300 kg | 300 kg |
| Arbeitshöhe | 45 – 105 cm | 53 – 113 cm | 57 – 117 cm |
| Höhenanpassung | Hochwertige Hydraulikpumpe | Hochwertige Hydraulikpumpe | Hochwertige Hydraulikpumpe |
| RUWI-Funktionsplatte ø 28 mm | ✔ | ✔ | ✔ |
| Arbeitsfläche | Multiplex mit HPL Beschichtung | Strapazierfähige HPL Beschichtung | Strapazierfähige HPL Beschichtung |
| Schubkasten und Stauraum | | ✔ | ✔ |
| Anschlagschienen | | 2 Auflageschienen + Klemmwinkel | 4 Auflageschienen + Klemmwinkel |
Flexible accessories.
Push – turn – fix, nothing could be easier! The RUWI clamping system accessories for groove and perforated work surfaces are exceptionally flexible to use. They are perfect for the RUWI lifting tables, but also for any other multifunction tables that have grooves with a width of 8-10mm or 20mm diameter holes. Some examples are Festool MFT, MW 1000 or Sortimo Workmo. You can position any components in an instant without needing any tools. This saves an enormous amount of time as you can very quickly produce either simple or highly complex structures, and they can be modified or disassembled just as quickly.
---
The 120cm long stop rails are equipped with screw-on workpiece supports that are easily interchangeable at any time. Their highly effective anti-slip surfaces hold the workpiece in place conveniently while you work on it, often without even requiring any additional fixing. Clamping with screw clamps is no problem, thanks to the holes in the surface intended for this. Woodworkers generally use this "added-value table" as an assembly, clamping or gluing table and it is perfectly tailored to their needs.


All components in the perforated grid or groove clamping system can quickly be fixed to perforated grid tables with ø20mm holes or into grooves with a width of 8-10mm without the use of tools. The accessories included are exceptionally flexible and can be used in all kinds of clamping and stop situations. You can put together really simple or even highly complex constructions in no time. Because construction is so incredibly easy and straightforward – and disassembly is just as effortless – the system copes brilliantly even with unusual tasks. Fixing, clamping, assembling…these comprehensive, invaluable accessories make anything possible.
All pieces can also be ordered individually. The accessory wall panel has room for further accessories as the support pegs can be freely positioned in the grooves.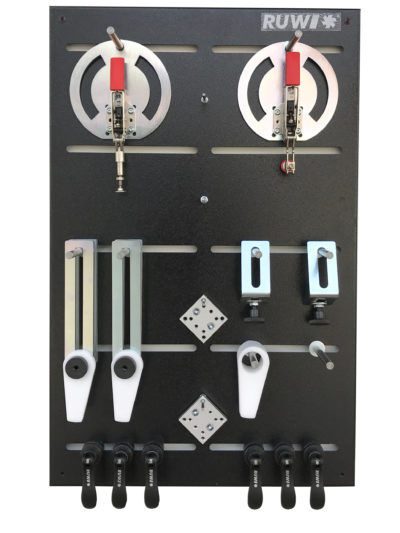 ---
Möchten Sie Nägel mit Köpfen machen?
We'd be happy to give you a personal quotation or send you a free information pack.
Newsletter
Keep up to date on product news! You can receive monthly updates through our newsletter.