RUWI Maschinenbau – manufacturer of milling machines and workshop machines for metal and woodworking
RUWI is passionate about developing new products and solutions for metal and wood professionals
Who is RUWI
Do you work in wood or metalworking? Then you know from your own experience: If you want to enjoy your machines in the workshop for a long time, you depend on the excellent quality of your work equipment. This is where RUWI comes in.
We see ourselves as passionate developers
and manufacturers of products and machines for metal and wood processing.
Thanks to our constant drive for innovation, we want to simplify your work processes with modern solutions. We want to ensure that our customers get the desired result quickly and easily. As a result, we have tools and workshop equipment in our portfolio that hardly any other manufacturer can offer you. It is particularly important to us that our products are not only successful in the short term. On the contrary. Machines and work equipment from RUWI should be of use to you for years and perform their function reliably and solidly.
We pride ourselves on the high quality of our products.
It goes without saying that we produce regionally in Germany and Austria. In this way, RUWI can honestly and honestly stand up for each of its products and react quickly to changes with a new solution. Of course, this benefits our customers. After all, this way we can help you quickly if you have any questions or concerns. At the same time, we are your contact and consultant in the event of repairs or maintenance – even well beyond the statutory warranty obligation.

Find out more about RUWI on our website
Ruwi Maschinenbau's product areas
The heart and soul of our product range are the RUWI tools for all aspects of mechanical engineering, clamping technology and lifting tables in metal and woodworking. Our goal here is to enable more ergonomics and safety in the workplace.
The professional tool is the result of years of sustainable development and numerous adjustments. In this way, we were able to develop high-quality and durable tools and safety systems which, even among experts, leave almost nothing to be desired
Woodworking machines
Anyone looking for professional tools for wood processing cannot ignore RUWI.
As a premium supplier of woodworking machines , we support you in simplifying your work processes and making them even safer. In this way, you will achieve the desired result faster and more easily while maintaining consistently high quality.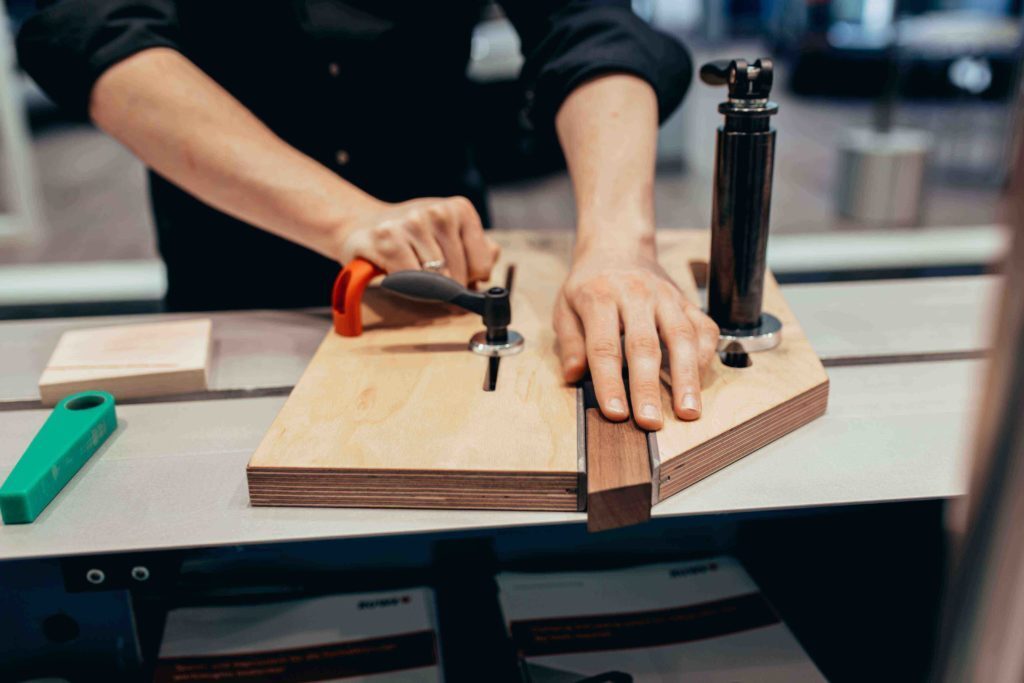 Table milling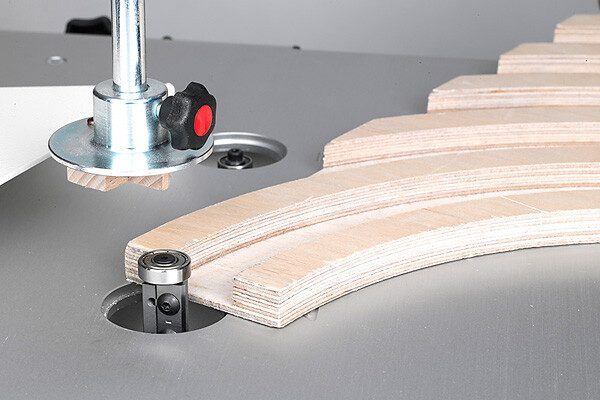 The mobile table milling machine from RUWI enables you to perform precise milling work on a work table that is both stable and flexible. The extensive range of accessories makes the milling table the ideal addition to table and CNC milling.
Scissor lift table
The continuously height-adjustable RUWI lifting table creates an ergonomic and safe workplace for everyone. Since it is extremely resilient, it is also ideal for trickier and demanding projects in woodworking.
Clamping plates
The clamping plates from RUWI create safety on the pillar drilling machine. With these, workpieces can be fixed without tools and can be freely positioned. Vice, vertical clamps and a table extension arm you for every technical challenge.
Safety system sliding table saw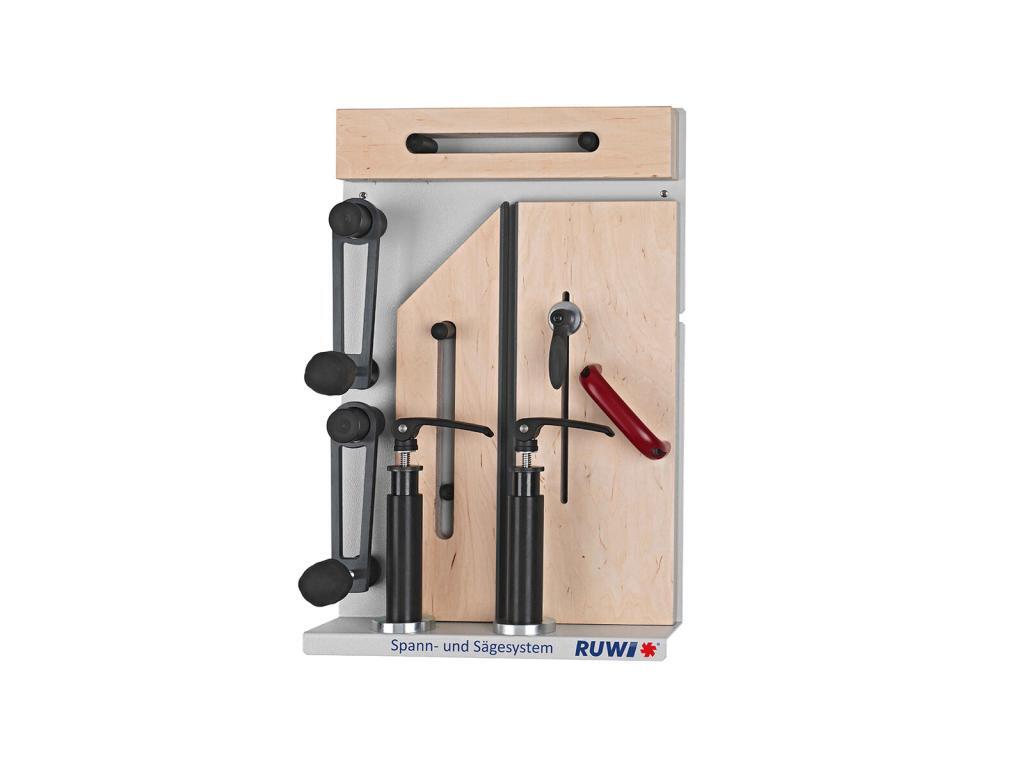 The RUWI safety system for the sliding table saw offers a high-quality occupational safety device. It can be easily assembled without tools and gives you more security when cutting and processing pieces of wood.
Metal working machines
In the field of metalworking, RUWI also ensures more safety and noticeably easier work.
In addition to their easy handling, the tools can usually be combined with accessories from other manufacturers without any problems. So designing your workplace with RUWI is definitely a good decision.
Here you will find an overview of our metalworking machines and tools.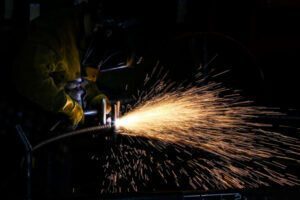 Welding tables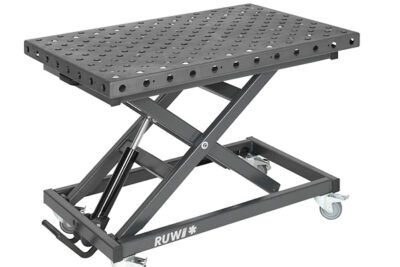 The innovative welding table from RUWI is mobile and flexible in use. It offers an ergonomic workplace and makes preparing for welding work child's play. Thanks to the perforated grid plate, the steel table can also be used universally with existing accessories.
Quick release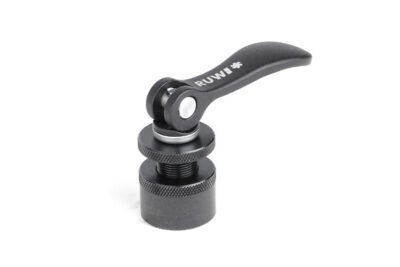 Push-turn-fix: This is how easy it is to precisely locate components of all kinds with the RUWI quick-release clamps. Clamping and stop elements can be attached to slot tables and clamping plates in next to no time without tools or screws.
Clamping bolt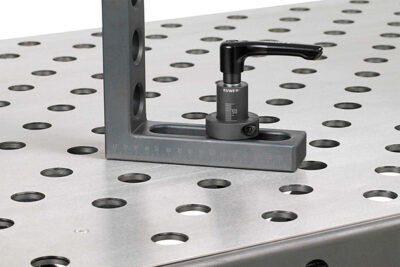 The steplessly adjustable clamping bolts from RUWI are easy to use and can be precisely adjusted. At the same time, the material surface is protected. The clamping bolts are compatible with most stop elements from different manufacturers.
RUWI products help to make your work more efficient and better
What distinguishes RUWI from other manufacturers for the wood and metalworking industry? We'd be happy to tell you! Here are eight good reasons why you should buy a RUWI product:
Our tools are designed so simply that you will soon be familiar with how to use them correctly.
Work equipment from RUWI increases the workflow, which saves you valuable working time.
You will experience more ergonomics in the workplace thanks to height-adjustable and optimized tools.
The integrated safety systems in our workshop equipment increase workplace safety for everyone involved.
RUWI systems were deliberately developed in such a way that they can be combined and expanded both with one another and with products from other manufacturers.
All RUWI products are designed to last. This is achieved, among other things, by purchasing the components from regional suppliers.
Word of good quality gets around. Meanwhile, many vocational and master schools rely on the good properties of our tools and safety systems.
In the meantime, RUWI has established itself as a premium brand among professionals in the metal and wood industry.
When will you convince yourself of the well-known RUWI quality?
Order metal and woodworking machines from RUWI conveniently in our online shop .
If you have any questions about the products, our service staff is available at any time.
Are you interested in working with our company?
Upon request, we will be happy to provide you with more detailed information in a personal conversation.