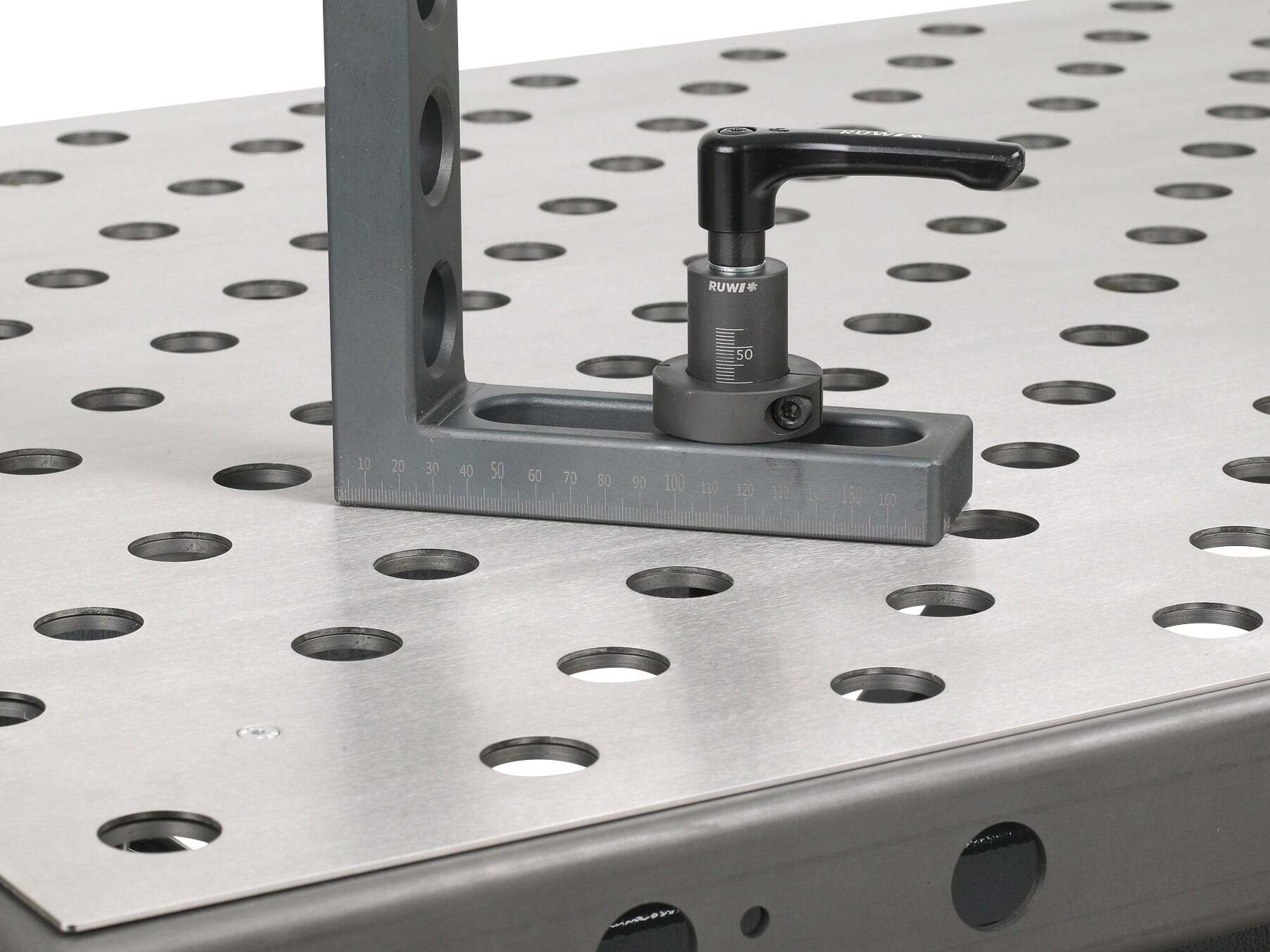 RUWI products for professional metalworking in industry and craft
First-class tools are important not only in woodworking, but also in metalworking. This is the only way to create precise workpieces and offer metal workers a comfortable working environment.
RUWI reacts to the needs in metal construction with innovative work tables and tools that not only meet the highest quality requirements, but also enable independent working methods. Our metal processing products achieve this thanks to a multitude of setting options, a high level of adaptability and extreme stability, so that professionals as well as do-it-yourselfers can work efficiently.
RUWI products for metal processing offer extremely high performance standards and ensure a high level of safety with the greatest possible flexibility.
Everything for professional metalworking
190 years of concentrated craftsmanship experience: As a cross-generational family business, RUWI meets individual requirements with clever solutions – it starts with the mobile yet stable workbench and ends with accessories that guarantee perfect results in construction technology, precision mechanics or industrial mechanics thanks to high-quality components and a high compatibility.
Convince yourself of our high-performance range in the field of metal processing:
Ease of work and save time
Sawing, punching, welding, polishing: The work in metal construction is diverse and sometimes requires individually configurable systems, whether in industry or in the home workshop. Of course, a high degree of flexibility must not lose any of its economic efficiency. Not least for this reason, RUWI products for metal production are the ideal tools, because they make work much easier.
The processing of metal with RUWI tools is not only more convenient for metal workers, it also saves time in both work preparation and implementation!
In order to be able to guarantee a high level of efficiency with constant comfort, the following aspects are particularly important to us when developing our products:
Do you have any questions about our products?
We are here for you.
RUWI: Manufacturer of products and accessories in the field of metal construction / metal processing
RUWI metal processing products are universally applicable, safe and ergonomic and therefore serve a wide range of uses. Both professionals and hobby craftsmen benefit from our selected and high-quality range, for example from the following industries and companies:
mechanical engineering
Vehicle construction / automotive
Welding technology
Locksmithing
Steel and metal construction
Plant construction
Apparatus construction
Stainless steel processing
Punching and laser technology
Sheet metal processing
Pipe technology / pipe processing
Soldering technology
shipbuilding
Bridge building
Home workshops
Training centers and schools
experienced do-it-yourselfers
Metalworking
Milling shop
Toolmaking
Aluminum machining
The use of RUWI tools can significantly improve the quality of the results, for example in welding work. Thousands of satisfied customers are now convinced of this – not only in Germany.
What our customers think of us
Whether workplace design, milling or clamping systems: Once RUWI – always RUWI.
What we really appreciate about our RUWI machines is the quick availability and short set-up times. The machine case reduces the search times enormously and the machines can also be used universally. We clearly noticed that times that add value are not reduced, which not only affects the employees at the machine, but also affects our customers in the final stages.
As a specialist for molded wood parts and other applications in absolute special construction, the RUWI table milling machines are the perfect addition to our CNC machine park. Rather, we can no longer imagine doing without them. By combining these technologies, we can implement almost all applications efficiently and in top quality.

RUWI creates optimal working conditions for a wide variety of tasks – the focus is on health and quality!