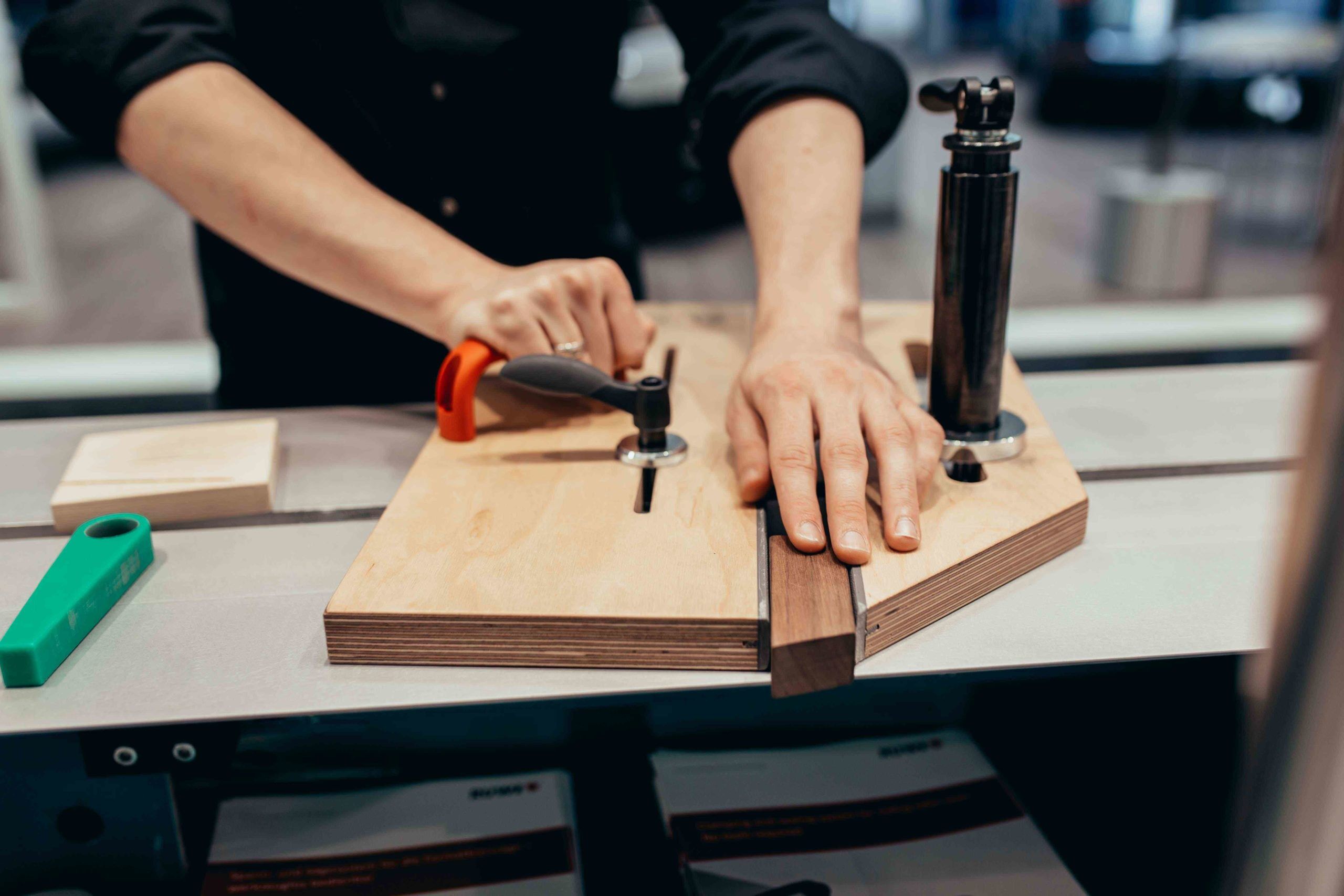 Saw safety clamping system
Certainly more security
The RUWI sawing system is an effective safety device for all common sliding table saws. It is mounted without tools in the blink of an eye and offers a high level of safety when cutting workpieces. The swing clamp makes the sawing system suitable for machines from Altendorf, Martin and Felder and others. Various auxiliary stops can be quickly and safely placed and fixed to fit the workpieces.
The sawing system is an effective work protection device for panel saws of all kinds. Thus, you meet all occupational safety regulations without significant expenditure of time.
The sawing system is mounted quickly and without tools. It clamps workpieces in every height of the clamping cylinder. The pressure plate adapts to the workpieces thanks to the ball joint and rubber pad.
An order panel for wall mounting ensures that the individual components of the work protection device are always in place and in quick access.
Various applications
When cutting oblique, short, narrow and wedge-shaped workpieces of different sizes, the health and safety regulations are often ignored because it supposedly without, just faster. The new protective device for sliding table saws does away with the excuses because with it, without significant loss of time, the safe variant succeeds convincingly fast and without tools.
| Technische Daten | Sägesystem Standard | Sägesystem Komfort |
| --- | --- | --- |
| | | |
| Sicheres Sägen kleiner Werkstücke | ✔ | ✔ |
| Aufspannen langer Werkstücke direkt auf dem Schiebeschlitten | | ✔ |
| Zuführanschlag | ✔ | ✔ |
| Hilfsanschlag schräg | ✔ | ✔ |
| Hilfsanschlag schmal | | 2 |
| Schwenkspanner | 1 | 2 |
| | | |
Are you ready for the next step?
We are happy to help you with your questions! Our international partner is Felder and you can purchase the saw system on their website or at your local Felder reseller.
Newsletter
Keep up-to-date with the latest news about product innovations! Once a month we mail updates via our newsletter.