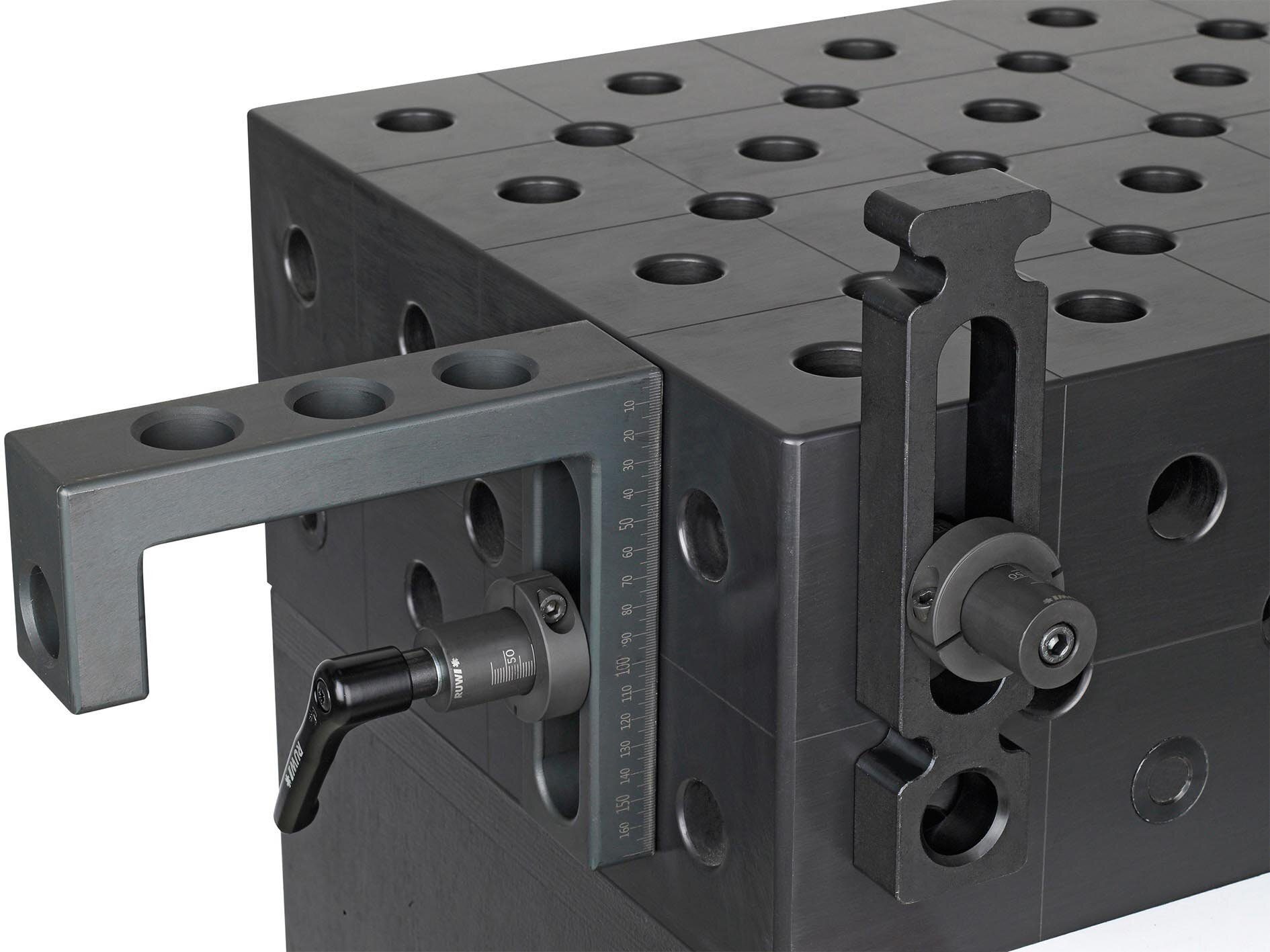 RUWI Clamping Bolts
Perfect solution for 16 and 28 mm diameter
RUWI clamping bolts are universal talents and as such are compatible with many stop elements from different manufacturers. Its variable, infinitely adjustable clamping range makes it highly flexible. Smooth operation and precise adjustment are ensured by the robust and robust RUWI clamping system.
Suitable for RUWI and other welding tables as well as many common stop elements from different manufacturers with Ø 16 and 28mm
With variable and infinitely adjustable clamping range
The absence of complex mechanical components makes the clamping bolts easy to handle and robust and durable in continuous use.
Many applications
Vario clamping bolts are used to fix common stop elements of different material thicknesses on ø 16mm and ø 28mm breadboard welding tables in no time at all. A continuously adjustable clamping ring ensures the attachment of one or more stop elements of different thickness. Even self-made stop elements can be fixed with the clamping bolts. The clamping range is easily preset by means of a scale. Vario clamping bolts enable surface-gentle clamping in the bore.
| Schnellspanner | Vario Spannbolzen 16 S | Vario Spannbolzen 16 K | Vario Spannbolzen 28 S | Vario Spannbolzen 28 K |
| --- | --- | --- | --- | --- |
| | | | | |
| Klemmung | Inbusschlüssel | Werkzeuglos / Klemmhebel | Inbusschlüssel | Werkzeuglos / Klemmhebel |
| Anzugsmoment | Sehr Hoch | Hoch | Sehr Hoch | 300 kg |
| Flexibilität | Sehr Hoch | Sehr Hoch | Sehr Hoch | Sehr Hoch |
| Stufenloser Spannbereich | Höhenverstellbarer Gelenkfuß | 0 – 36 mm | 0 – 75 mm | 0 – 75 mm |
RUWI Accessories – A match for every task
No matter what you need to fix in the RUWI Lochraster welding tables, with RUWI's comprehensive range of accessories, you are up to any task. This makes complex stop and clamping situations a "snap". Stop rail, horizontal and vertical quick release, Vario clamping bolts and tripods that can be adjusted in three dimensions fix almost everything in the twinkling of an eye – extremely robust, uncomplicated, fast and safe.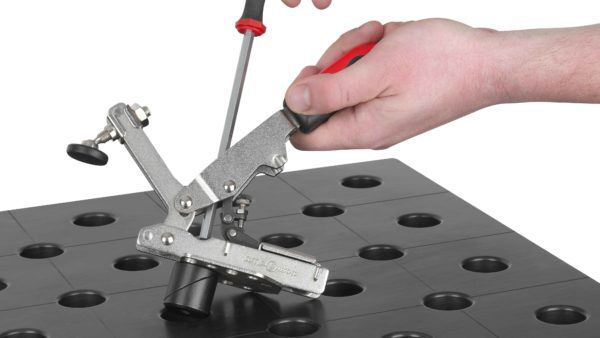 The 119 cm long phosphated steel stop rails are fixed to the welding table without tools using the clamping lever. One longitudinal and one transverse braced rail – the stop is ready for a right angle. Simply clamp, align and weld workpieces. For larger mounting parts, the stop rail is positioned so that it protrudes beyond the table. Result: a flexibly enlargeable support surface.

The clamping bolts of the horizontal and vertical quick release clamps provide pre-fixing in the welding tables with hole diameters of 16 or 28 mm. Applications on the table or even overhead are also possible without any problems. Finally, the quick-release clamps are firmly clamped to the table with a SW 6 Allen key.
The pressure screw with hinge plate can be adjusted via the thread. Material thickness of 40 mm automatically compensates the horizontal tensioner.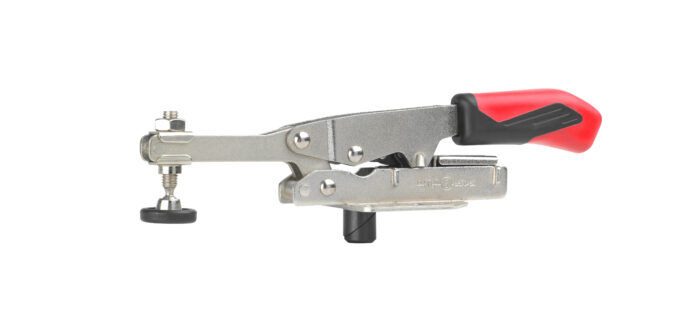 The position angle set for the point stop is fixed with the enclosed clamping bolt with washer in the welding table. The fine adjustment of height and depth of the point stop is done via an adjusting screw.
The eccentric tensioner set is also fixed in the welding table with clamping bolt and washer. The necessary tension of the workpiece is provided by an eccentrically drilled clamping element. Thus, the clamping work is easily possible even in hard to reach places.
All components of the sets can be quickly fixed on welding tables with hole ø28mm. The included accessories are extremely flexible for a variety of clamping and impact situations. In a jiffy, this results in simple and highly complex constructions. Fixing, clamping, mounting, with the extensive and high-quality accessories everything is possible.
Of course, all parts of the set can also be ordered separately. A wall panel provides space for additional accessories. Its locating pins are freely positionable in the grooves of the panel.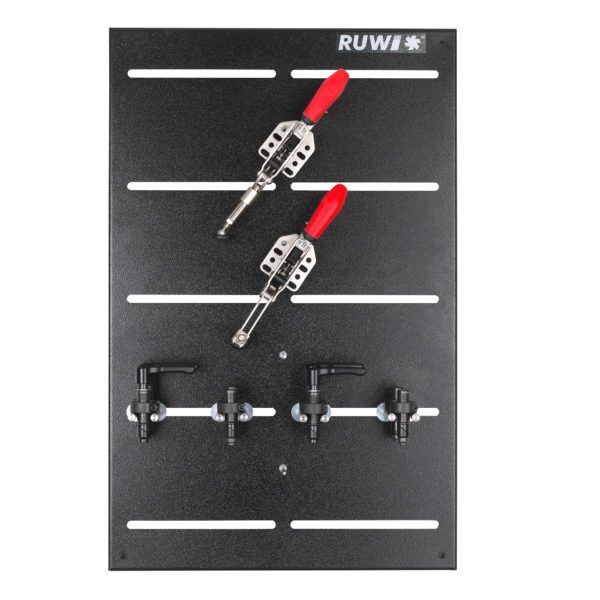 ---
---
Sind Sie bereit für den nächsten Schritt?
Gerne machen wir Ihnen ein persönliches Angebot oder schicken Ihnen ein kostenloses Informationspaket. Für allgemeine Informationen sind wir für Sie unter der Rufnummer 07402 8414 erreichbar.
Newsletter
Bleiben Sie in Sachen Produktneuheiten auf dem Laufenden! Mit unserem Newsletter erhalten Sie einmal im Monat ein Update.